About Us
The first Lovi products were finished on the sauna benches in our small apartment in Vantaa. After years spent in southern Finland, we returned to our roots in the north. Our operations grew step by step, from the lawnmower warehouse to a real production hall. Today, all of Lovi's operations, from design to production and sales, are grouped under one roof in our own little factory in Jääli.

Anne & Mikko Paso
OUR LITTLE FACTORY IN NORTHERN FINLAND
For us at Lovi, it is very important to operate in Northern Finland. Surrounded by nature, we have space and time to think – nature gives as inspiration and energy for our work. It helps us to develop things specific to Lovi: responsible products and sustainable aesthetics.
When everything is done by us in one place, the design, manufacturing, and sales are condensed into one tight package. Things are easier to do and the need for change can be quickly noticed. Due to the uniqueness of our operations, production, work steps and needs, our tools have been developed in house. When communication from design to production and sales to our customers is smooth, we can respond quickly.
Ecological and functional production and materials are the basis of our operations. The continuous development of design, production methods and the use of materials enables our products to be manufactured in a way that respects nature. When we know our material supply chain, partners, and work colleagues, it is easy for us to act according to our values.
Visuality is important to all of us. The desire to build a beautiful environment is inherent in people. Decorating a living space to look like your own becomes natural. At the same time, doing things by hand brings people pleasure and even the smallest cooperation of hand and eye sparks joy. We have always wanted to combine these things in our products: nature, lasting beauty, and the pleasure of working with your own hands.
TEAM LOVI
In a small family business, every job description is broad and varied. Our capable working hands move to where they are needed.
Anne, Lovi's heart, founder, designer, and owner creates new things, develops others, and holds the whole process in her hands. Mikko, Anne's husband, the other owner and CEO of our company, knows our numbers, keeps in touch with our customers and, if necessary, helps in the hall when schedules are tight. In the mornings, Meri snaps the lights on in the production hall, inspects orders and is responsible for the smooth running of production. Ulrika and Iida cut products, paint, package and send products, always a smile on their faces and always with joy. Sanna produces content for social media, takes care of our website, is involved in the sales and makes sure that Christmas carols are kept in mind even in midsummer. During the high season, we also take in a bunch of vigorous extra helpers.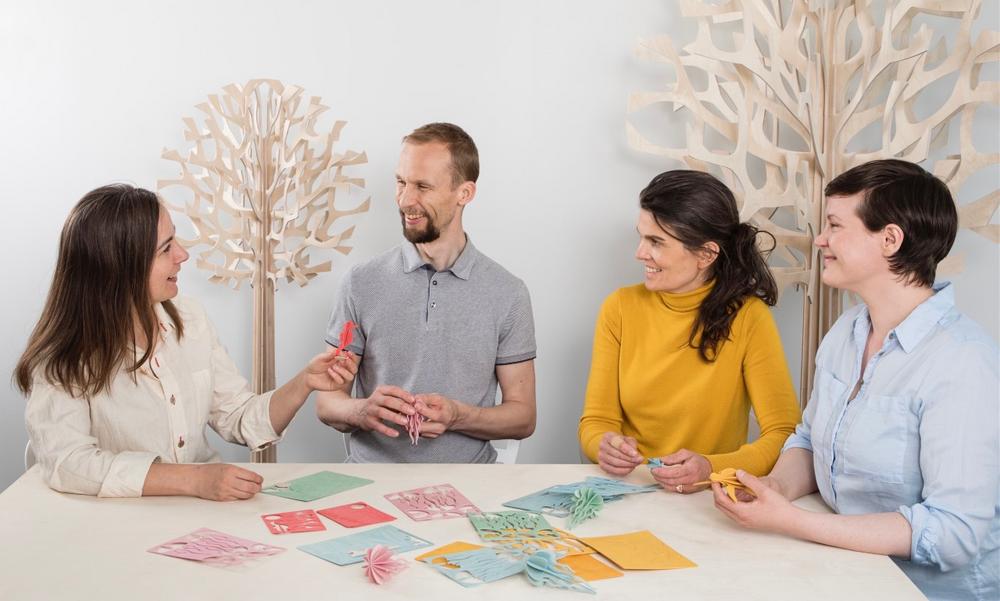 A warm welcome from all of us.