Miffy & Balloon
Miffy loves colorful balloons! It is fun to watch them hover lightly and carefree with the wind. This Miffy and Balloon 3D puzzle was created after original illustration by Dick Bruna, and you will have all the fun of assembling and painting it.
Paint Miffy and Balloon with colors that make you happy. Follow the instructions included in the package carefully. Start assembling from Miffy's right leg to maintain balance with the balloon in her left hand. Attach the balloon wire as instructed, and finally press Miffy onto the round base that comes with the kit so that the bunny stands firmly in place.
Order this cute little bunny and her balloon as a gift for a little artist. Paint and craft a sweet little dot of color in the children's room together.
Or do you have a friend who is fond of little bunnies? Combine this wooden Miffy with Lovi Watercolors and send as a creative gift. Remember to add "Gift Wrapping" when finishing your order in our shop.
Show more
Show less
15,90€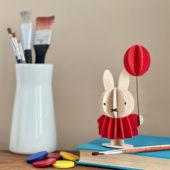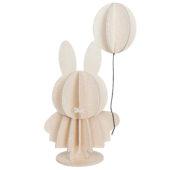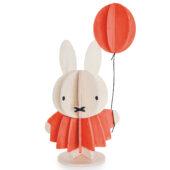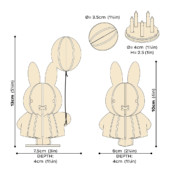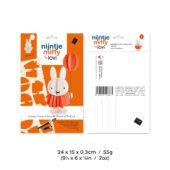 DETAILS
Package size / weight:
24 x 15 x 0.3cm / 55g (9½ x 6 x  ⅛in / 2oz)
Color: natural wood (Lovi Watercolors are not included, buy them separately)
Material: Eco-friendly Finnish birch plywood
Made in Finland. Plastic free. Easy to send postcard-like package. Illustrated instructions inside the package. Patented. Design: Anne Paso
Shipping costs
Finland: Free shipping for all orders
European Union & Rest of Europe: From 9.90€
United Kingdom: From 13.90€
North America: From 19.90€
Rest of The World:  From 24.90€
See free shipping tresholds & detailed information here.
DID YOU KNOW
In the Netherlands, Miffy is known as Nijntje. It is derived from the word "konijntje" which means a little bunny.