Miffy & Cake
Bake a cake with Miffy. What decorations would you add on the cake? What does your favorite cake taste like? Miffy's cake has five candles and three delicious layers. Let's have a party!
Which baking stage is your favorite? Are you a master at spreading fluffy filling between layers? Is your favorite the careful arrangement of the decorations at the finishing stage? Or do you prefer to focus on spooning the cake into your mouth?
There are a lot of the same elements in baking and creating Miffy & Cake. Using creativity in the design phase. Doing with hands. Proceed step by step towards the finish.
Do you have a friend who is fond of little bunnies? Combine this wooden Miffy with Lovi Watercolors and send as a creative gift. Remember to add "Gift Wrapping" when finishing your order in our shop.
Bring out the colors and painting supplies and decorate Miffy together. Spend a nice crafting moment. Paint, eat a delicious snack as the parts dry, and assemble.
Show more
Show less
15,90€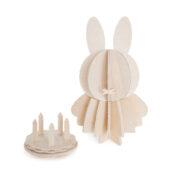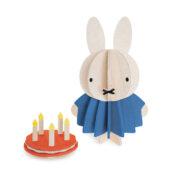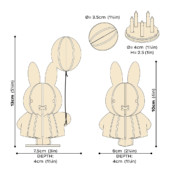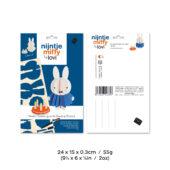 DETAILS
Package size / weight:
24 x 15 x 0.3cm / 55g (9½ x 6 x  ⅛in / 2oz)
Color: natural wood (Lovi Watercolors are not included, buy them separately)
Material: Eco-friendly Finnish birch plywood
Made in Finland. Plastic free. Easy to send postcard-like package. Illustrated instructions inside the package. Patented. Design: Anne Paso
Shipping costs
Finland: Free shipping for all orders
European Union & Rest of Europe: From 9.90€
United Kingdom: From 13.90€
North America: From 19.90€
Rest of The World:  From 24.90€
See free shipping tresholds & detailed information here.
DID YOU KNOW
Miffy became a girl when its creator Dick Bruna wanted to draw a bunny with a skirt instead of pants.