WOODEN CAKE TOPPERS BY LOVI
Wooden cake toppers make cakes very stylish and offer so many new possibilities of decorating your cakes. We all have seen the wooden texts with the name of the birthday boy or girl or with a Happy Birthday wishes, but why don't you try something different?
It is no secret that we love cakes here at Lovi. At the beginning of 2022, we started the Cake of the Month project and I must admit, no one said no when the idea was released. It is super nice to spend the coffee breaks and lunch times together in our kitchen here in our little factory, but now those gatherings are even sweeter once a month. We will be presenting the cakes in sets of three, so during this year there will be four delicious and beautiful posts about using Lovi figures as wooden cake toppers.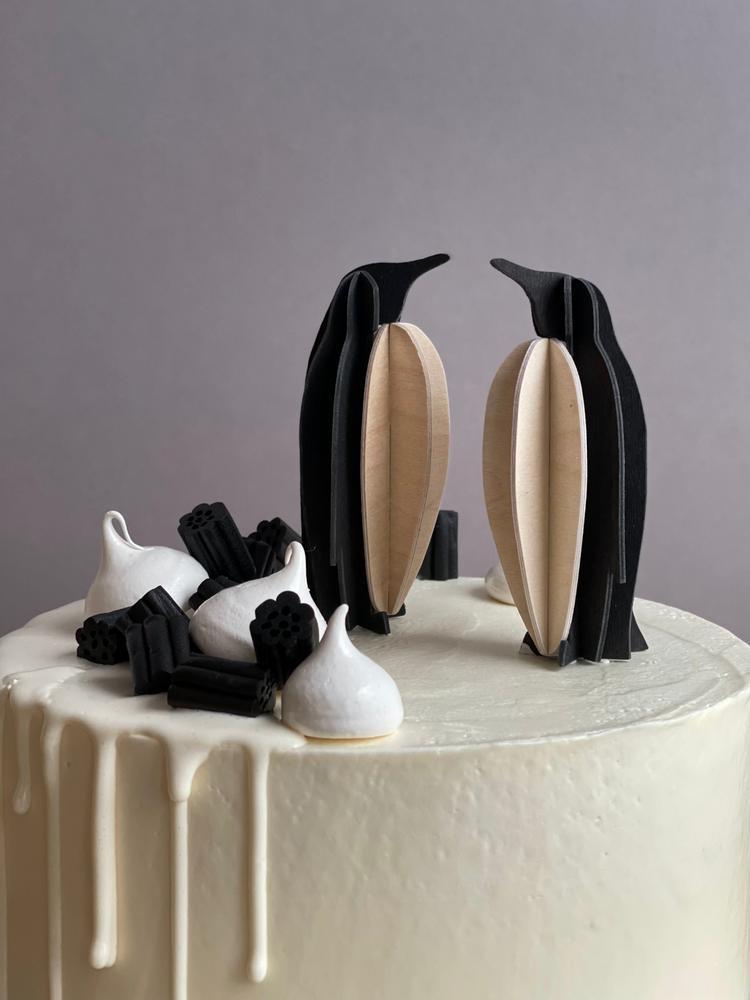 January 2022 was quite chilly as the Januarys in northern Finland usually are. So, what else would have been better wooden cake toppers on the first cake of the month than Lovi Penguins? The cake was made by Hyvä Kakku bakery (hyvä kakku means a good cake in Finnish, isn't that just a perfect name for a bakery that really makes good and so very pretty cakes).
They have the coolest kakkukone (cake machine) on their website and you can choose the cake base, fillings and decorations you want. We chose to have a light basic cake base with delicious caramel and lingonberry fillings. It was a really good combination! White meringues and tasty licorice were chosen on top of the cake.
We didn't want to put the Lovi Penguins straight on top of the icing but put a toothpick inside the joint. It made it easy to put the penguins lightly in its place. All Lovi figures are painted with non-toxic paints, so you don't need to worry even if the figure touches the icing. You can also add a little piece of baking paper under the figures.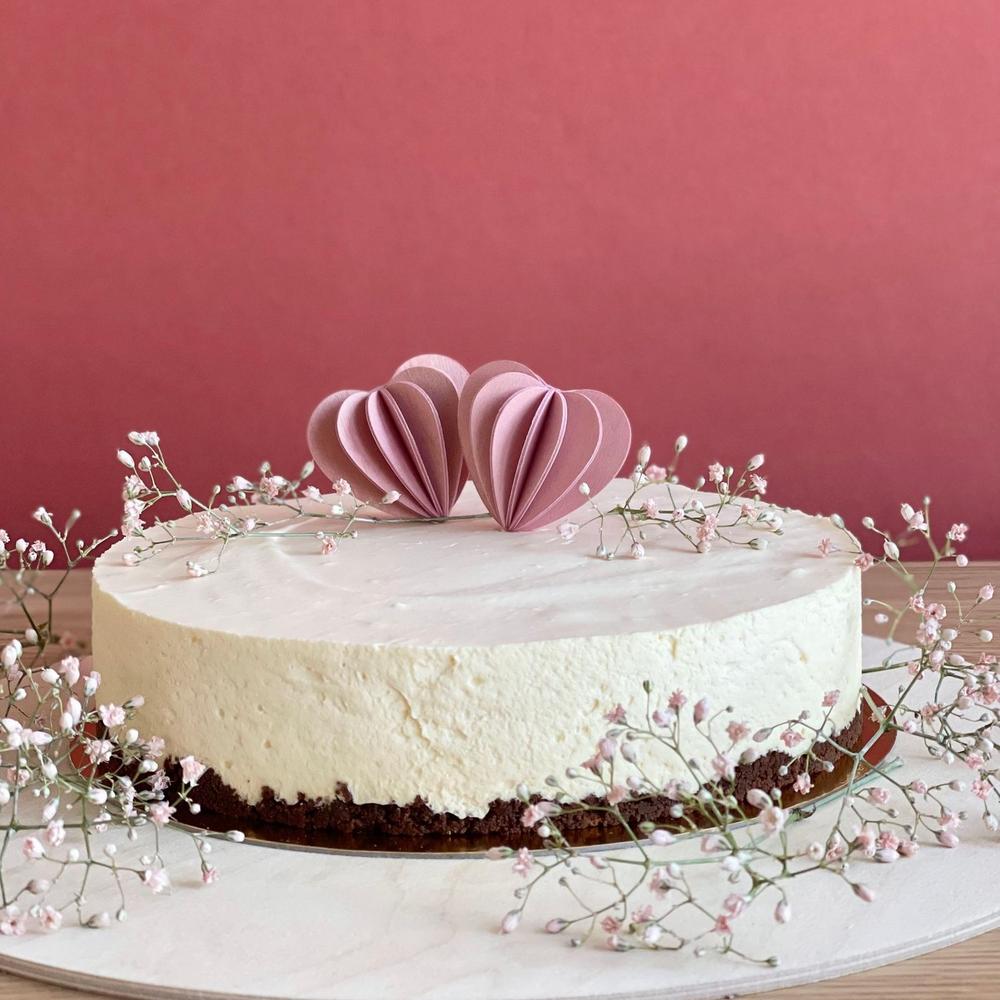 The cake of February was quite obviously Valentine's Day cake, and the Lovi Hearts were to serve as wooden cake toppers this time. This cake was also ordered from Hyvä kakku, but instead of the basic layer cake we chose cheesecake this time. The Daim cheesecake to be precise. It was so good! Toothpicks were used to help with setting this time too. Small Lovi Hearts and delicate Baby's breath flowers (which we call harsokukka = gossamer flowers here in Finland) made the perfect and easy enough decoration and made the basic cheesecake more festive. It was almost too pretty to be eaten, but we did it anyway.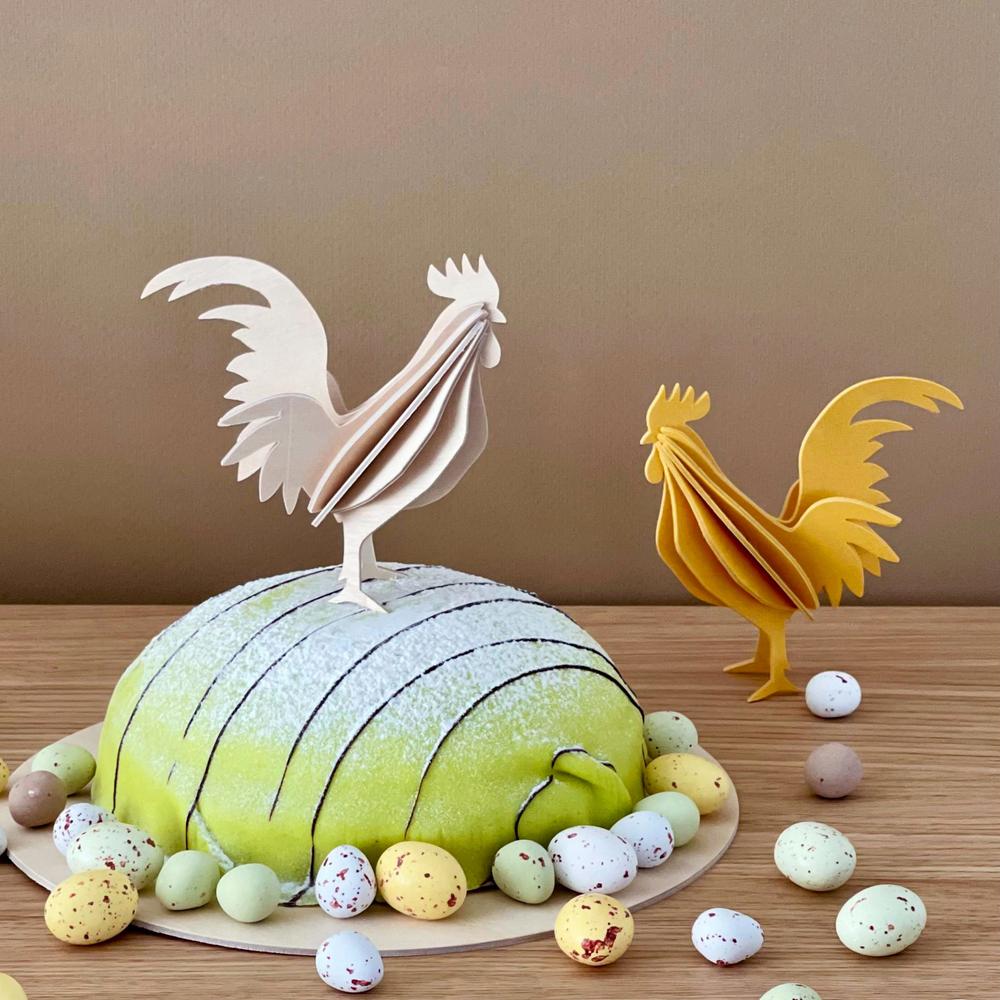 Even though Easter was placed in April this year, we took the false start to Easter delicacies in March already. Lovi Roosters were chosen to be the wooden cake toppers this time, and the cake was one of my personal favorites, the Princess Cake. There is something so delicious in this flavor combination. Furthermore, I love the light green color of it. It makes it feel a little bit healthier, doesn't it, as we should eat more greens.
Lovi Rooster is standing on the cake as the marzipan holds the light rooster very well. To be honest, the hill of the Rooster was eaten quite quickly after the photoshoot.
What kind of cakes are you going to bake this summer? You can find several wooden cake toppers in the Lovi online store. Go and find your favorites!