Lovi Penguin
Lovi Penguin loves its partner and would just like to dive together side by side, in the seas of love. After finding a suitable companion, the penguin lives with it all its life. Penguins are indeed a symbol of intimacy and community – they remind us that together, we are more.
Lovi Penguin stands strong, the small wings outward curved, ready to wobble in the direction of its beak.
Penguins are used to being seen in their black stylish costumes, but Lovi's range also includes a rarer, light blue penguin. The natural wood belly rests lightly on its small feet.
Assemble the Lovi penguin to accompany you to your desk, peek out of the bookshelf or delight the little occupant of the nursery. You can also send it as a gift to your friends as a reminder that together, we can do anything.
Collect the entire Lovi Sealife series. See other products in the series here.
Show more
Show less
12,90€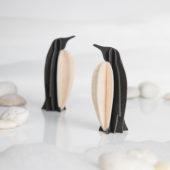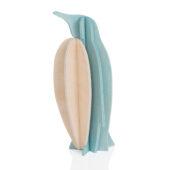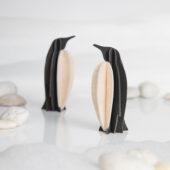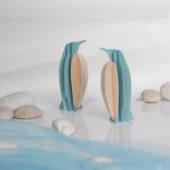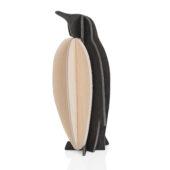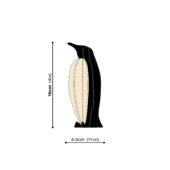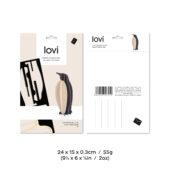 DETAILS
Package size / weight:
24 x 15 x 0.3cm / 55g (9½ x 6 x  ⅛in / 2oz)
Colors: black, light blue
Material: Eco-friendly Finnish birch plywood
Hand painted with water based, non-toxic toy paint. Natural wood material is seen through the thin paint layer.
Made in Finland. Plastic free. Easy to send postcard-like package. Illustrated instructions inside the package. Patented. Design: Anne Paso
Shipping costs
Finland: Free shipping for all orders
European Union & Rest of Europe: From 9.90€
United Kingdom: From 13.90€
North America: From 19.90€
Rest of The World:  From 24.90€
See free shipping tresholds & detailed information here.
DID YOU KNOW
Penguins begin to giggle when tickled!