Lovi Rooster
Lovi Rooster crows – it's time to wake up to a new day! The crow invites the sun to rise. With the swaying comb and the rhythmically swinging wattles,  rooster runs its little kingdom.
In Asian culture, the rooster symbolizes several positive virtues. Literature and development, the courage to fight enemies, reliability and a desire for protection. In general, the rooster is associated with punctuality and continuity. The rooster is also a symbol of good luck and success.
Lovi Rooster steps into your home in its bright red, warm yellow or natural wood feather suit. Digs the ground and settles into a house. Where would you place this little ruler?
Show more
Show less
12,90€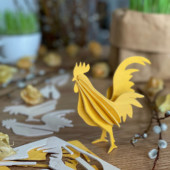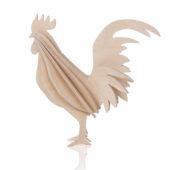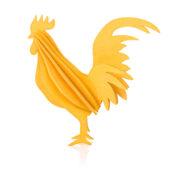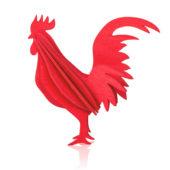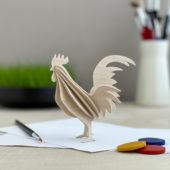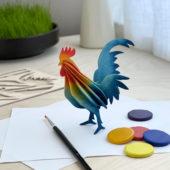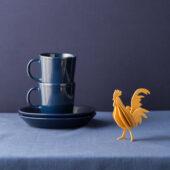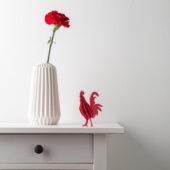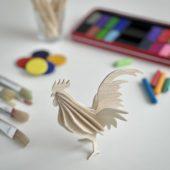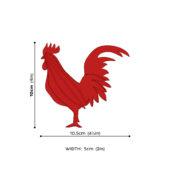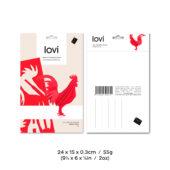 DETAILS
Package size / weight:
24 x 15 x 0.3cm / 55g (9½ x 6 x  ⅛in / 2oz)
Colors: bright red, warm yellow, natural wood
Material: Eco-friendly Finnish birch plywood
Hand painted with water based, non-toxic toy paint. Natural wood material is seen through the thin paint layer.
Made in Finland. Plastic free. Easy to send postcard-like package. Illustrated instructions inside the package. Patented. Design: Anne Paso
Shipping costs
Finland: Free shipping for all orders
European Union & Rest of Europe: From 9.90€
United Kingdom: From 13.90€
North America: From 19.90€
Rest of The World:  From 24.90€
See free shipping tresholds & detailed information here.
DID YOU KNOW
Roosters love to crow and they crow at any time of the day, not just as the sun rises.