Lovi Heart
Lovi Heart is a beautiful hanging decoration assembled of six-parts.
The heart as a symbol of love and care is thousands of years old. The source of life and the abode of life force. Its shape reflects warm feelings, affection, and mutual understanding. The message of the heart symbol is the same almost everywhere in the world: "I love you. You are important to me." As early as the 1910s, hearts were drawn on Valentine 's Day cards.
Lovi Heart is a wonderful gift for a spouse, mother, father, child or dear friend. Send a greeting to those who matter the most.
All our products are made of Finnish, eco-friendly birch plywood. Lovi Heart is available in three shades of red, pink, bright red and dark red.
4.5cm is suitable for these Lovi trees and spruces: 100cm–200cm
6.8cm is suitable for these Lovi trees and spruces: 120cm–200cm
Show more
Show less
From 9,90€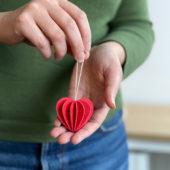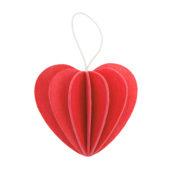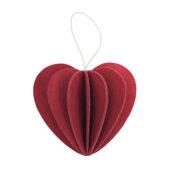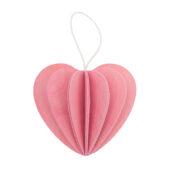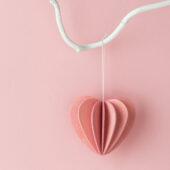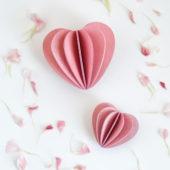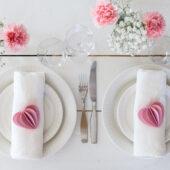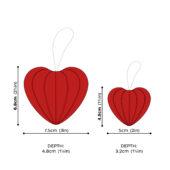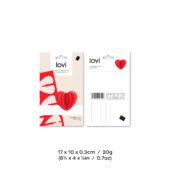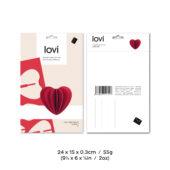 DETAILS
Package size / weight:
17 x 10 x 0.3cm / 20g (6¾ x 4 x ⅛in / 0.7oz)
24 x 15 x 0.3cm / 55g (9½ x 6 x  ⅛in / 2oz)
Colors: bright red, dark red, light pink
Material: Eco-friendly Finnish birch plywood
Hand painted with water based, non-toxic toy paint. Natural wood material is seen through the thin paint layer.
Made in Finland. Plastic free. Easy to send postcard-like package. Illustrated instructions inside the package. Patented. Design: Anne Paso
Shipping costs
Finland: Free shipping for all orders
European Union & Rest of Europe: From 9.90€
United Kingdom: From 13.90€
North America: From 19.90€
Rest of The World:  From 24.90€
See free shipping tresholds & detailed information here.
DID YOU KNOW
"The heart has its reasons the reason does not know." -Blaise Pascal