Lovi Minibaubles 1.7cm, 8pcs
Lovi Minibaubles are the smallest products in the Lovi collection. With a diameter of only 1.7cm, the baubles are a lovely addition to a small Christmas tree or Christmas arrangement. The natty fingers assemble a pack of 8 baubles quickly.
The package includes thin metal wires for hanging, cut to the right length. The package also includes illustrated instructions for assembling the baubles and attaching the hanging wires.
Lovi Minibaubles were designed in 2008, originally for 30cm high Lovi Spruce branches, but they can also be hung on 25cm high Lovi Spruce
Tiny minibaubles are made from Finnish eco-friendly birch plywood. There are three color options: natural wood, red and light green.
Show more
Show less
9,90€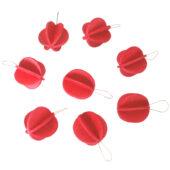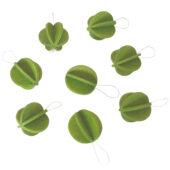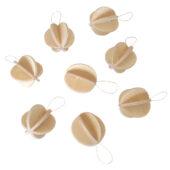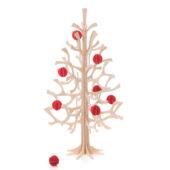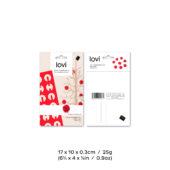 DETAILS
Package size / weight:
17 x 10 x 0.3cm / 20g (6¾ x 4 x ⅛in / 0.7oz)
Colors: bright red, light green, natural wood
Material: Eco-friendly Finnish birch plywood
Hand painted with water based, non-toxic toy paint. Natural wood material is seen through the thin paint layer.
Made in Finland. Plastic free. Easy to send postcard-like package. Illustrated instructions inside the package. Patented. Design: Anne Paso
Shipping costs
Finland: Free shipping for all orders
European Union & Rest of Europe: From 9.90€
United Kingdom: From 13.90€
North America: From 19.90€
Rest of The World:  From 24.90€
See free shipping tresholds & detailed information here.
DID YOU KNOW
Lovi Minibaubles lightly reproduce the shapes of the first Lovi products, Lovi Baubles. Lovi's wooden baubles were originally designed as an alternative to plastic Christmas decorations.