The Original Lovi Baubles 8cm, 3pcs
The Original Lovi Baubles 8cm have been brought back to our range. Lovi Baubles were the first Lovi products ever designed and manufactured. Decorate your Christmas tree with these collapsible, wooden baubles.
The package contains three 8cm diameter baubles. The baubles are assembled from six parts and the hanging wire is threaded into place just before the last part is attached. You can also assemble the baubles without yarn if you want to use them, for example, as part of a Christmas setting. The package comes with illustrated instructions to help with assembly.
There are five colors: natural wood, bright red, dark red, light green, and dark green. If you wish, you can also paint the natural wooden baubles with your own favorite shades and designs
The Original Lovi Baubles 8cm are delivered in a convenient package in which the baubles can be stored after use. Be sure to save the packaging!
Show more
Show less
29,90€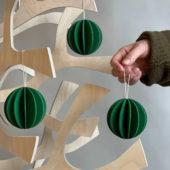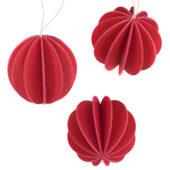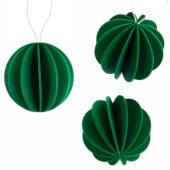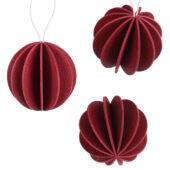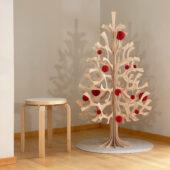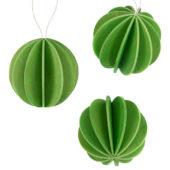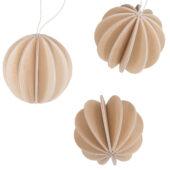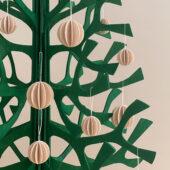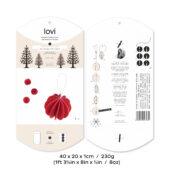 DETAILS
Package size / weight:
40 x 20 x 1cm / 230g (1ft 3⅝in x 8in x ⅜in / 8oz)
Colors: bright red, dark green, dark red, light green, natural wood
Material: Eco-friendly Finnish birch plywood
Hand painted with water based, non-toxic toy paint. Natural wood material is seen through the thin paint layer.
Made in Finland. Plastic free. Easy to send flat package. Illustrated instructions inside the package. Patented. Design: Anne Paso
Shipping costs
Finland: Free shipping for all orders
European Union & Rest of Europe: From 9.90€
United Kingdom: From 13.90€
North America: From 19.90€
Rest of The World:  From 24.90€
See free shipping tresholds & detailed information here.
DID YOU KNOW
Christmas trees have always been decorated with homemade decorations. Ribbons and angels made of paper and straw are familiar to everyone. The children's adorable Christmas decorations are dear and are brought up year after year. Lovi Baubles follow this tradition of self-created decorations by providing the opportunity to assemble the baubles yourself. Natural wooden baubles can also be painted with colors and patterns you wish.