Lovi Tree 34cm with Minibirds
Lovi Tree 34cm with Minibirds is an assembled decorative object made from Finnish birch plywood. The small light green birds sit lightly on its branches. This tree is a natural and beautiful eye-catcher for your home decor.
Assemble the Lovi Tree 34cm according to the instructions in the package by putting pieces together one by one. Also assemble the small birds included. There is a small hole in the birds' bellies from which they can be easily attached to the branches.
Surround yourself with natural shapes, authentic materials and a homely atmosphere. The Lovi tree is also the perfect size for your desk to liven up your office.
The Lovi Tree 34cm with light green Minibirds is a great gift idea for someone who loves nature. Add Lovi Minibirds in other colors as a gift or attach Lovi Minibaubles like small apples to the branches of the tree.
When sending as a gift, remember to choose "Gift Wrapping" before finishing your order.
Show more
Show less
69,00€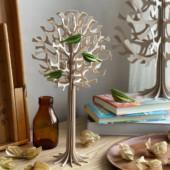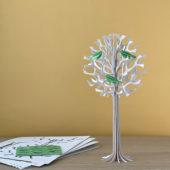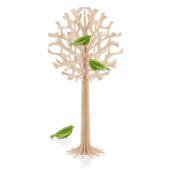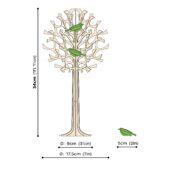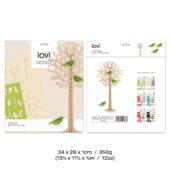 DETAILS
Package size / weight:
34cm x 29cm x 1cm / 440g (13⅜ x 11⅜ x ⅜ / 12oz)
Color: natural wood with light green minibirds
Material: Eco-friendly Finnish birch plywood
Minibirds are hand painted with water based, non-toxic toy paint. Natural wood material is seen through the thin paint layer.
Made in Finland. Plastic free. Easy to send, flat package. Illustrated instructions inside the package. Patented. Design: Anne Paso
Shipping costs
Finland: Free shipping for all orders
European Union & Rest of Europe: From 9.90€
United Kingdom: From 13.90€
North America: From 19.90€
Rest of The World:  From 24.90€
See free shipping tresholds & detailed information here.
DID YOU KNOW
The silver birch is Finland's national tree. Birch plywood is beautiful, durable, versatile and the best material for Lovi products.
Lovi has donated tree seedlings to the world's drought, flood and erosion areas since 2009.
115, 000 trees planted to date. Since 2020, we have committed to planting 50,000 tree seedlings annually.