The Original Lovi Baubles 6cm, 4pcs
The Original Lovi Baubles 6cm are back. The Lovi Baubles started Lovi's story and are now available again. Previously individually packaged, these baubles are now in our selection in multipacks. From this package size, you can assemble four beautiful baubles.
The color range is plentiful and there are five Christmas shades available: bright red, dark red, dark green, light green and natural wood. Natural wood baubles can also be painted. Spend some Christmas craft time together and decorate your own baubles.
There are four baubles in one package. Assembly is easy. Remove the parts from the plates and insert them in the order shown in the illustrated instructions in the package. Be sure to save the package and keep the baubles assembled inside it for future occasions.
Hang something new on the branches of a Christmas tree this Christmas or add some baubles into your winter setting. Lovi Baubles made of Finnish birch plywood are a natural addition to the Christmas decorations.
The original Lovi Baubles 6cm are also a wonderful and easy to send gift to a friend. If you wish, you can assemble the baubles first and slip them into the gift box ready.
Show more
Show less
24,90€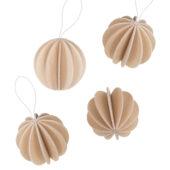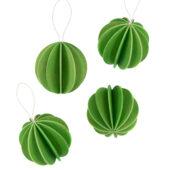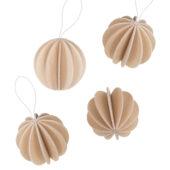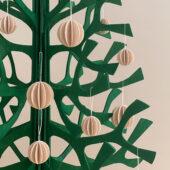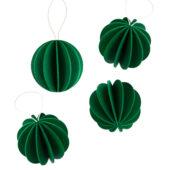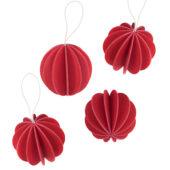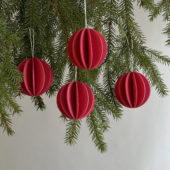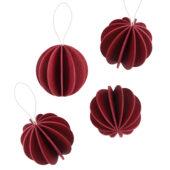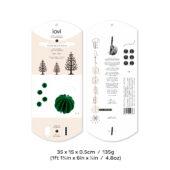 DETAILS
Package size / weight:
36 x 15 x 0.5cm / 135g (1ft 1¾ in x 6in x ¼in / 4.8oz)
Colors: bright red, dark green, dark red, light green, natural wood
Material: Eco-friendly Finnish birch plywood
Hand painted with water based, non-toxic toy paint. Natural wood material is seen through the thin paint layer.
Made in Finland. Plastic free. Easy to send flat package. Illustrated instructions inside the package. Patented. Design: Anne Paso
Shipping costs
Finland: Free shipping for all orders
European Union & Rest of Europe: From 9.90€
United Kingdom: From 13.90€
North America: From 19.90€
Rest of The World:  From 24.90€
See free shipping tresholds & detailed information here.
DID YOU KNOW
Christmas baubles are an integral part of Christmas decorating and atmosphere, but what was originally hung on spruce branches? The Christmas tree used to be decorated with edible decorations. Apples, nuts, and marzipan candies were hung on the branches and served as the feast progressed.