EASTER CRAFTS – FUN FOR ALL AGES
It is time for Easter crafts. As spring awakens the bubbling creativity inside, it's time to bring out the art supplies – watercolors, crayons, ribbons, and fabrics – to help to create new and unique Easter decorations. Give yourself time and permission to enjoy the power of handicrafts.
EVERYONE CAN PARTICIPATE
Easter crafts are suitable for all ages. Invite everyone! Often the craft gathering delights the most when craft makers of different ages are involved. Smaller ones learn from bigger ones and bigger ones from smaller ones. Bigger craft makers guide smaller ones in the basics – mixing colors, using scissors, and handling glue. Smaller craft makers' open-minded, surprising, and completely new ideas and unique ways to use colors, materials, and techniques also inspire bigger ones to come up with ideas and experiment in new ways.
All natural wood products in the Lovi range are suitable for painting, but at Easter time we recommend choosing the Lovi Rabbit, Lovi Rooster, or small Miffy by Lovi figures for painting.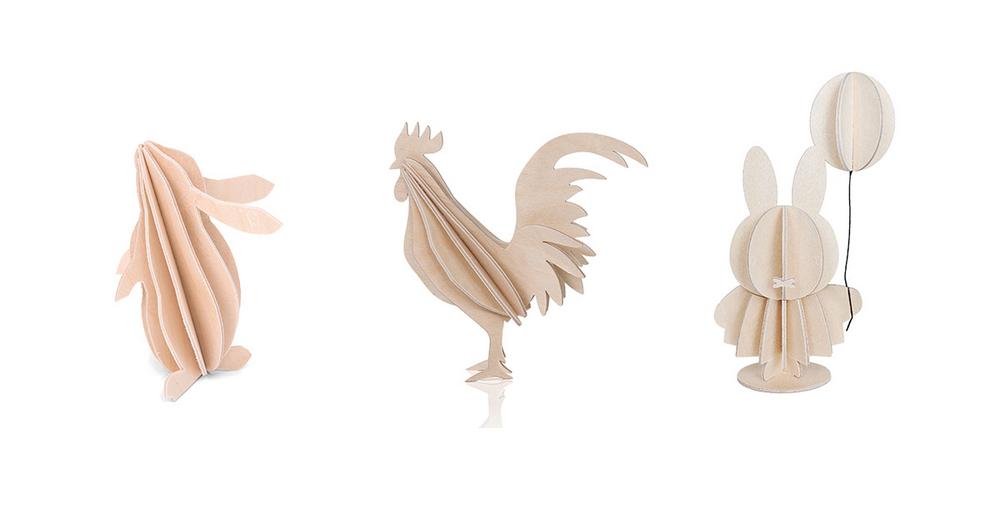 When children arrive at the craft table, it is a good idea to check that all the tools used in the craft are safe, even for small hands. Due to their non-toxicity, Lovi Watercolors are a perfect choice for craft moments shared with children. Eight high-pigment shades guarantee full color rejoicing. Mixing colors according to the easy color mixing guide included in the package, the range of shades expands endlessly.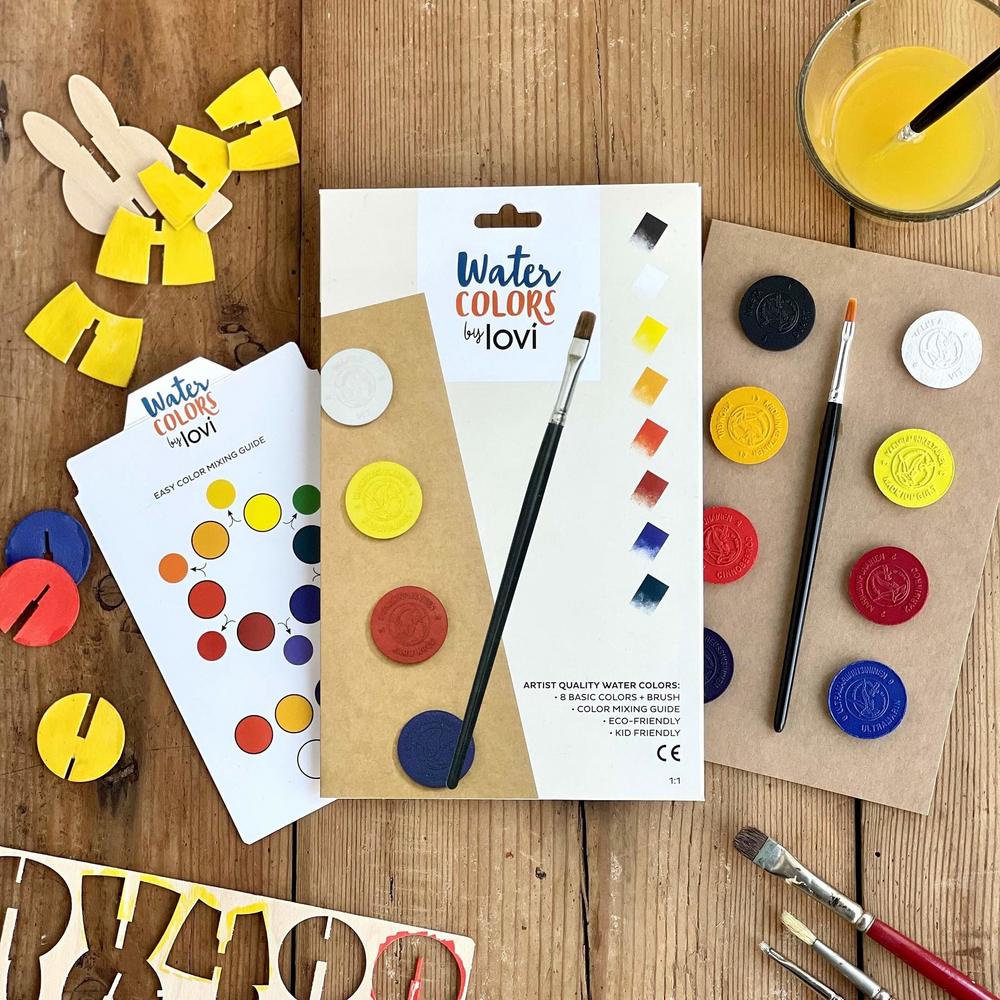 WHAT IS NEEDED FOR EASTER CRAFTS?
Bring creativity and ideas, time and joy, friendship, and light to the table. Brush strokes, the magic of different kinds of fabrics and the tinkling of scissors. Whatever your heart desires.
The Easter crafts emphasize natural materials, fresh colors, and adorable Easter figures. Sunny shades of yellow and various shades of green, bunnies, roosters and eggs are traditional choices, but you can renew familiar figures by making them look like yourself.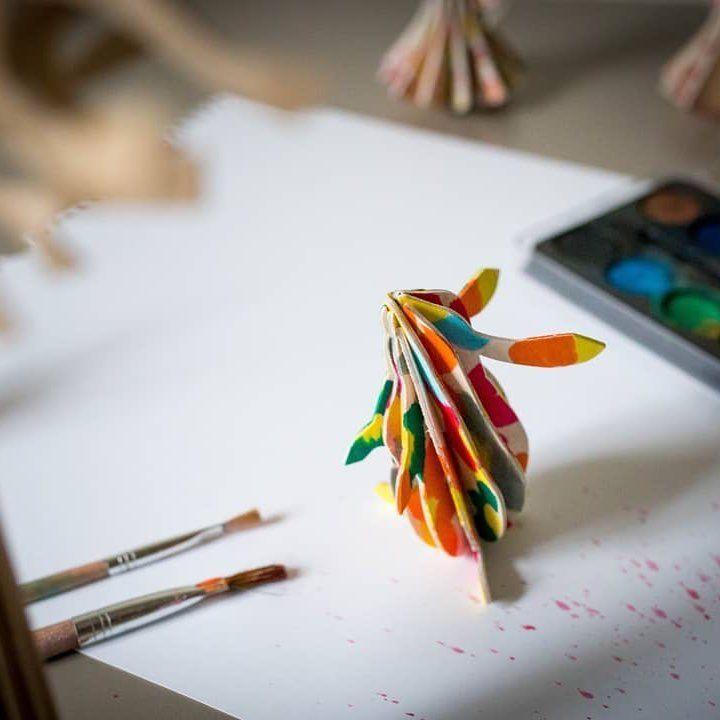 Natural wood Lovi products can be painted or decorated in the most imaginative ways. Paint them with watercolors, use different pencils and markers, cut and glue pieces of cloth to the surface of the figure, decorate with glitter. Prefer eco-friendly accessories, recycled materials, and non-toxic, natural paints.
A year ago, we organized an Easter craft-themed Lovi WorkShop for our staff at our factory. We spent an entire day painting and decorating Lovi Roosters and Miffy by Lovi figures, enjoying the good company and spending a nice time together. We used Lovi Watercolors, recycled fabrics, small glass beads and lovely eco-glitter to decorate our favorite Easter figures. More about Lovi WorkShop at the end of the post.
HOW TO PAINT LOVI EASTER CRAFTS FIGURES
Let all your senses be involved in doing. Don't rush, it is ok to take some time to do this. Feel the surface of the wood at your fingertips. Follow the strokes of the brush with your eyes, the spread of color on the surface of the wood. Enjoy colors, patterns, and materials.
Painting the natural wood Lovi figure is nice and easy. The light surface of birch plywood is suitable as a base for painting, the colors look fresh, and the paint adheres well to the surface of the wood.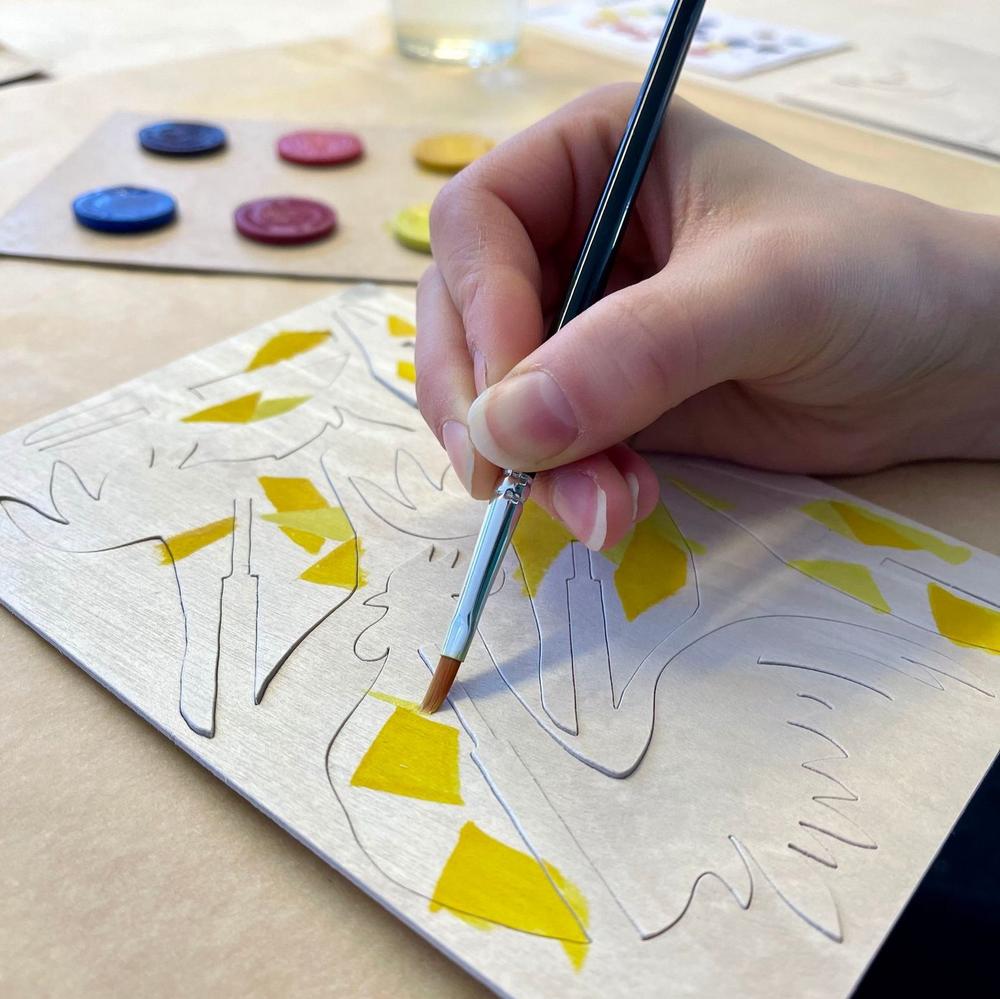 You can paint the parts while they are still attached to the board or remove the parts and paint them one by one. In our experience, both methods work and steer you toward great results. Be sure to paint both sides. Allow the parts to dry in peace before assembling to prevent the paint from spreading.
PAINTING THE ASSEMBLED FIGURE
You can also paint and decorate the figure only after assembling it. This option is the best choice if you plan to decorate your own Lovi figure with fabrics, for example, or paint patterns on the figure that you want to continue seamlessly from one part to another. If the figure is decorated by gluing another material to the surface of the wood, it is important to assemble the product first so that the decorative material does not make it difficult for the parts to settle. It is also worth assembling the figure before painting if you spend a lot of time painting or the paint used is thick. A wooden surface that remains damp for a long time can swell and thus make it difficult to put the parts together.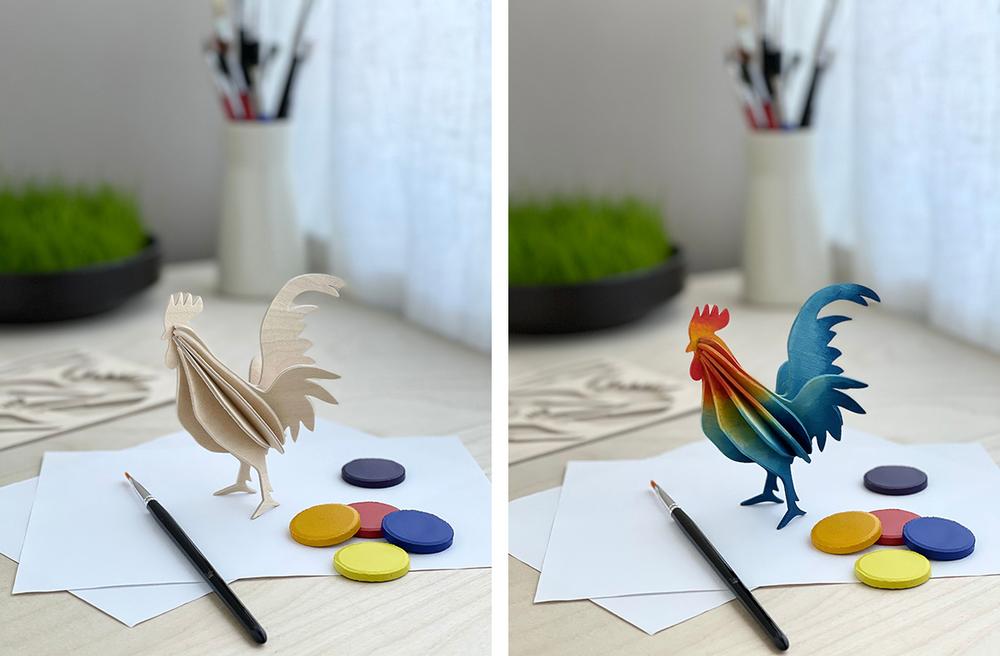 When assembling a painted product, pay attention to the details of how the parts fit into place, forming a three-dimensional shape from the flat parts.
LOVI WORKSHOP
It is natural for people to do things with their hands. Making by hand, doing crafts, and creating something new relaxes and increases well-being. Assembling Lovi products offers a little time to do by hand and painting natural wood products expands the experience even further.
Lovi WorkShop is a leisurely moment for you, a group of friends or the work community. We organize Lovi WorkShops in our factory shop in the charming environment of the Taito Shop. More information about Lovi WorkShops: taitokeskus@taitopohjoispohjanmaa.fi or +358 403522046.