Lovi Dolphin
Lovi Dolphin symbolizes wisdom, safety, and freedom. The smooth shape combined with a playful, cheerful nature is the perfect combination. With its eager swishing tail, dolphin continues its journey to new adventures.
Lovi Dolphin has been swimming a long way. It has dived in the depths of the water, coming to the surface to enjoy the warmth of the sun on its shiny skin.
Assemble Lovi Dolphin, attach it to the wave-shaped base in the package, and place it on a windowsill, bookshelf, or nursery. Take in the joy, playfulness, and goodwill it brings.
Or send as a gift to someone who could enjoy a drop of the ocean. Choose a gray, light blue or dark blue dolphin with a natural wood foamy wave crest.
Collect the entire Lovi Sealife series. See other products in the series here.
Show more
Show less
12,90€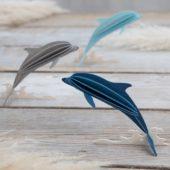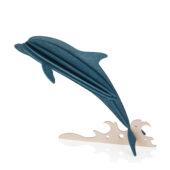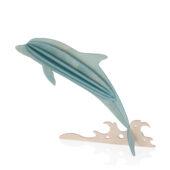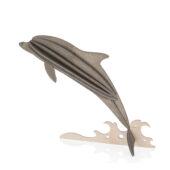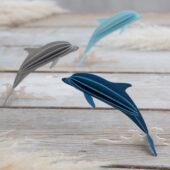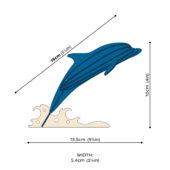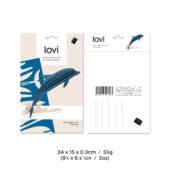 DETAILS
Package size / weight
24 x 15 x 0.3cm / 55g (9½ x 6 x  ⅛in / 2oz)
Colors:dark blue, grey, light blue
Material: Eco-friendly Finnish birch plywood
Hand painted with water based, non-toxic toy paint. Natural wood material is seen through the thin paint layer.
Made in Finland. Plastic free. Easy to send postcard-like package. Illustrated instructions inside the package. Patented. Design: Anne Paso
Shipping costs
Finland: Free shipping for all orders
European Union & Rest of Europe: From 9.90€
United Kingdom: From 13.90€
North America: From 19.90€
Rest of The World:  From 24.90€
See free shipping tresholds & detailed information here.
DID YOU KNOW
Dolphins sleep about eight hours a night but only in one hemisphere of the brain, the other half is always active.
Dolphins have really accurate hearing but since they don't have auricles, they receive the sounds on their lower jaw.
Dolphins' skillful leaps above the surface of the water are fun to watch but it is not known for certain why they do so.