Lovi Seahorse
Lovi Seahorse enjoys its life in the nooks of the sea, glowing in bright shades of coral.
When a seahorse finds a partner, it swims with the same one in the ocean currents for the rest of its life. Therefore, it symbolizes loyalty and trust.
You'll find your favorite in the Lovi seahorse wide color palette. Alternatives include coral red, warm yellow, yellow, light green, dark blue and light blue. Why not put the whole set of colors together on the book shell or decorate the nursery with a row of perky shades?
The beautifully curved tail can be pressed into the base plate that comes with the package, allowing the seahorse to stand firmly in place. The Seahorse can also be hung by threading a thin thread through the last part before pressing down in its place.
Assemble a piece of marine wonder in your home or send as a gift to a friend. Lovi Seahorse is made of Finnish birch plywood. The product and packaging are 100% plastic-free.
Collect the entire Lovi Sealife series. See other products in the series here.
Show more
Show less
9,90€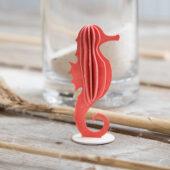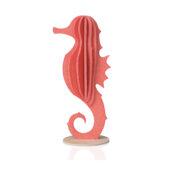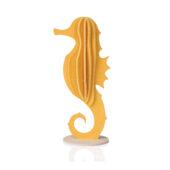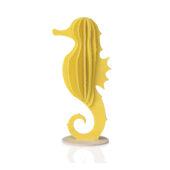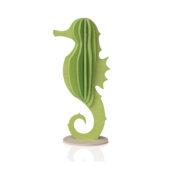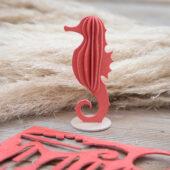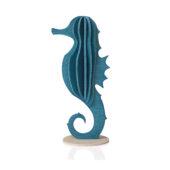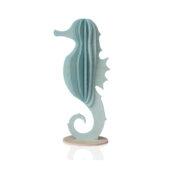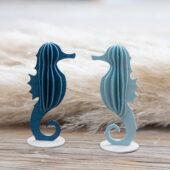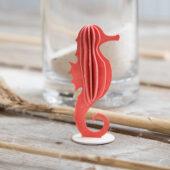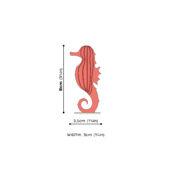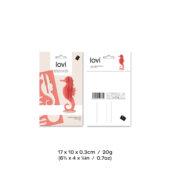 DETAILS
Package size / weight:
17 x 10 x 0.3cm / 20g (6¾ x 4 x ⅛in / 0.7oz)
Colors: coral red, dark blue, light blue, light green, warm yellow, yellow
Material: Eco-friendly Finnish birch plywood
Hand painted with water based, non-toxic toy paint. Natural wood material is seen through the thin paint layer.
Made in Finland. Plastic free. Easy to send postcard-like package. Illustrated instructions inside the package. Patented. Design: Anne Paso
Shipping costs
Finland: Free shipping for all orders
European Union & Rest of Europe: From 9.90€
United Kingdom: From 13.90€
North America: From 19.90€
Rest of The World:  From 24.90€
See free shipping tresholds & detailed information here.
DID YOU KNOW
The seahorse male carries and gives birth to babies.
Seahorses are the slowest fishes in the world and are very bad swimmers.