Lovi Cat
Lovi Cat has a light step, the tail is valiantly upright and the direction determinately forward. This charmer, one of the most popular Lovi products, purred its place into the hearts of cat people immediately after its unveiling in 2016.
Our selection includes three painted options – black, grey, and warm yellow – as well as a natural wood cat to paint yourself. Perhaps you have a certain beloved kitty-cat in mind whose colors you would like to capture?
This lovely figure is easy to assemble. Remove the parts from the plate in the package and join them together in the order specified in the instructions.
Place Lovi Cat to delight your days on the bookshelf, observe life on the side table, or peek the world from the windowsill. Or send a gift to the one whose heart purrs for these silky slippers.
Show more
Show less
12,90€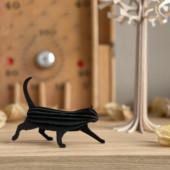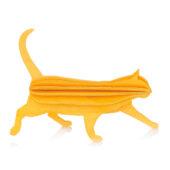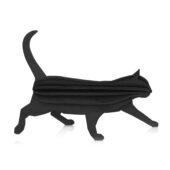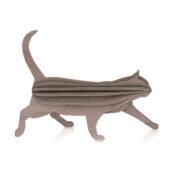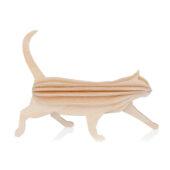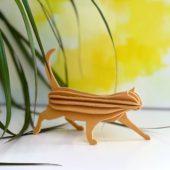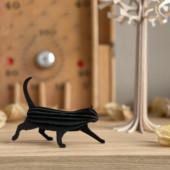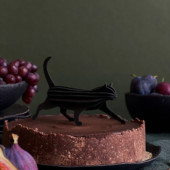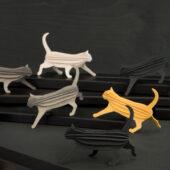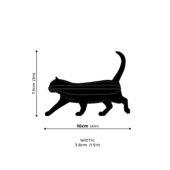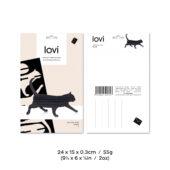 DETAILS
Package size / weight:
24 x 15 x 0.3cm / 55g (9½ x 6 x  ⅛in / 2oz)
Colors: black, grey, natural wood, warm yellow
Material: Eco-friendly Finnish birch plywood
Hand painted with water based, non-toxic toy paint. Natural wood material is seen through the thin paint layer.
Made in Finland. Plastic free. Easy to send postcard-like package. Illustrated instructions inside the package. Patented. Design: Anne Paso
Shipping costs
Finland: Free shipping for all orders
European Union & Rest of Europe: From 9.90€
United Kingdom: From 13.90€
North America: From 19.90€
Rest of The World:  From 24.90€
See free shipping tresholds & detailed information here.
DID YOU KNOW
"Man wants to be a fish and a bird,
the snake would rather have wings,
the dog is a lost lion,
the engineer wants to be a poet,
the fly studies the swallow,
the poet tries to imitate the fly,
but the cat
wants only to be cat,
and every cat is cat
from whiskers to tail,
from hunches to live rat,
from night to its yellow eyes."
-Ode to the cat, Pablo Neruda