Lovi Jellyfish
Lovi Jellyfish is a salute from the depths of the sea, from the other side of the waves.
A beauty from another world, travelling peacefully with the ocean currents. The lightweight figure with its long tentacles moves calmly, like the pace of breathing.
Three calm colors: pink, mint green and light blue are perfect for jellyfish. If you prefer something different, such as tentacles in different colors, simply pick up a natural wood Jellyfish and create your own unique sea creature. Add Lovi Watercolors to your shopping cart too.
The package comes with a thin thread for hanging but you can also attach a longer thread or line to the Lovi Jellyfish for hanging on curtains or the ceiling. Different sizes and colors make for a slowly swinging group, as if accompanied by ocean currents.
Lovi Jellyfish 3D puzzle is also a great gift idea for a lover of pastel colors. Remember to choose "Gift Wrapping" when finishing your order.
Collect the entire Lovi Sealife series. See other products in the series here.
Show more
Show less
From 9,90€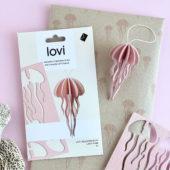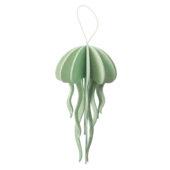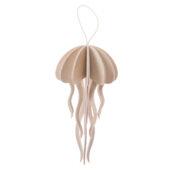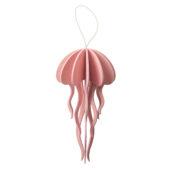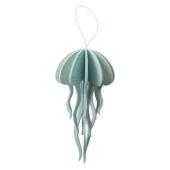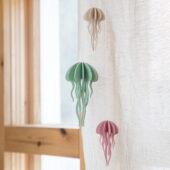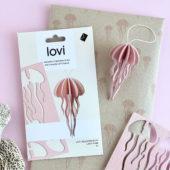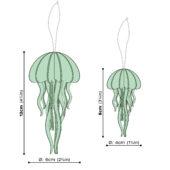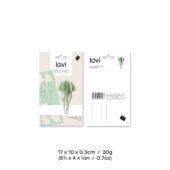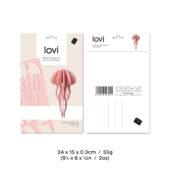 DETAILS
Package size / weight:
17 x 10 x 0.3cm / 22g (6¾ x 4 x ⅛in / 0.7oz)
24 x 15 x 0.3cm / 55g (9½ x 6 x  ⅛in / 2oz)
Colors: light blue, light pink, mint green, natural wood
Hand painted with water based, non-toxic toy paint. Natural wood material is seen through the thin paint layer.
Material: Eco-friendly Finnish birch plywood
Made in Finland. Plastic free. Easy to send postcard-like package. Illustrated instructions inside the package. Patented. Design: Anne Paso
Shipping costs
Finland: Free shipping for all orders
European Union & Rest of Europe: From 9.90€
United Kingdom: From 13.90€
North America: From 19.90€
Rest of The World:  From 24.90€
See free shipping tresholds & detailed information here.
DID YOU KNOW
Jellyfish are the oldest multicellular animals in the world, even older than dinosaurs. Jellyfish have no heart, lungs or brain and can clone themselves.