Lovi Swallow
Lovi Swallow has awakened to the first light of the morning sun. It sits down for a moment to observe the landscape then takes off on its wings again. The streamlined tail is designed for controlled flight during fast-paced gliding.
When autumn comes, flocks of swallows gather on power lines to plan their journey south.
Swallows are generally black in color, but Lovi's range also includes dark and light blue options. There are three sizes, 10cm, 15cm and 20cm. The smallest swallow is suitable for sitting on a branch of a Lovi Tree 55cm or Lovi Spruce 50cm. The middle one is suitable for the following Lovi Trees: Lovi Tree 108cm, Lovi Tree 135cm, Lovi Spruce 100cm and Lovi Spruce 120cm. The biggest Lovi Swallow is suitable for Lovi Tree 200cm and Lovi Spruce 180cm.
Order the Lovi Swallow and assemble it using the instructions included in the package. Place this cheerful chirper on the edge of the bookshelf, in an office, or on a windowsill to observe the flying weather. You can also surprise your friends and send a lovely gift.
Show more
Show less
From 9,90€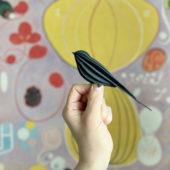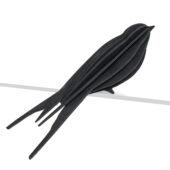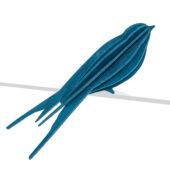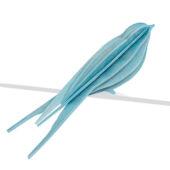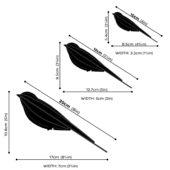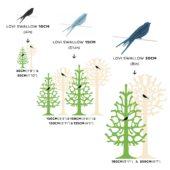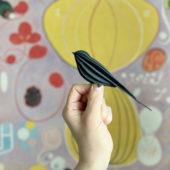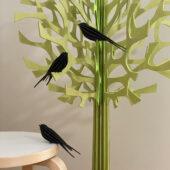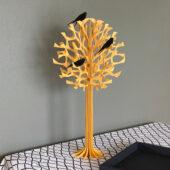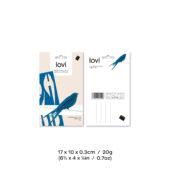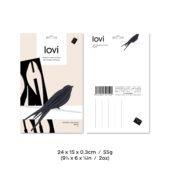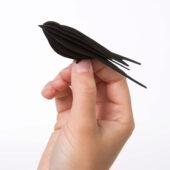 DETAILS
Package size / weight:
17 x 10 x 0.3cm / 20g (6¾ x 4 x ⅛in / 0.7oz)
24 x 15 x 0.5cm / 55g (9½ x 6 x  ⅛in / 2oz)
31 x 20 x 0.3cm / 110g (12¼ x 7⅞ x ⅛in / 3.9oz)
Colors: black, dark blue, light blue
Material: Eco-friendly Finnish birch plywood
Hand painted with water based, non-toxic toy paint. Natural wood material is seen through the thin paint layer.
Made in Finland. Plastic free. Easy to send postcard-like package. Illustrated instructions inside the package. Patented. Design: Anne Paso
Shipping costs
Finland: Free shipping for all orders
European Union & Rest of Europe: From 9.90€
United Kingdom: From 13.90€
North America: From 19.90€
Rest of The World:  From 24.90€
See free shipping tresholds & detailed information here.
DID YOU KNOW
A pair of swallows fly more than 1,000 times back and forth when acquiring nest-building material.