Lovi Mouse
Lovi Mouse is full of sweetness, from the snout to the tip of its tail. Round ears, a cute little muzzle, and tiny paws. The chubby, round body is extended by a long, curved tail.
This curious little gourmet is always ready for adventure, especially if there might be something tasty to gnaw on. With a wildly wiggling nose, it scurries its way to the first crumbs of the morning.
Lovi Mouse is made from thin Finnish birch plywood. It is assembled from six parts which are placed piece by piece in their correct positions. Assembly instructions are provided with the package.
Assemble your own house mouse to peek out from the top of the bookshelf, sit on the windowsill or as a sweet detail in the interior of a nursery. You can also set up Lovi Mouse as an eye-catcher for a cheese plate.
You can also send it as a happy surprise to someone who loves little creatures.
Show more
Show less
12,90€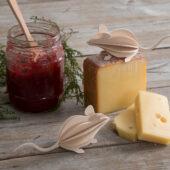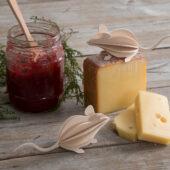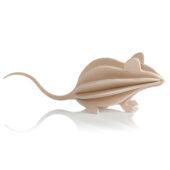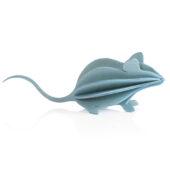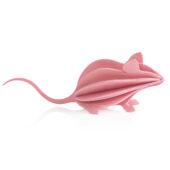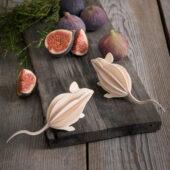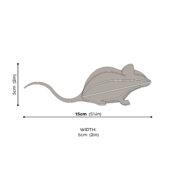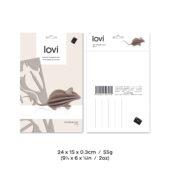 DETAILS
Package size / weight:
24 x 15 x 0.3cm / 55g (9½ x 6 x  ⅛in / 2oz)
Colors: grey,  light blue, light pink, natural wood
Material: Eco-friendly Finnish birch plywood
Hand painted with water based, non-toxic toy paint. Natural wood material is seen through the thin paint layer.
Made in Finland. Plastic free. Easy to send postcard-like package. Illustrated instructions inside the package. Patented. Design: Anne Paso
Shipping costs
Finland: Free shipping for all orders
European Union & Rest of Europe: From 9.90€
United Kingdom: From 13.90€
North America: From 19.90€
Rest of The World:  From 24.90€
See free shipping tresholds & detailed information here.
DID YOU KNOW
Lovi Mouse was first released in 2019 at the Christmas sale of Nagoya's JR Takashiyama department store in Japan to celebrate 2020 as the year of the Rat.
Mice sing! A male mouse courts a female with serenades sung in ultrasound. Thus, mice are one of the few singing mammal species besides bats, whales, and human being.