Lovi Elf Girl
Lovi Elf Girl 's braids swoosh in the wind and the heels of her shoes are clopping eagerly as it skitters to new adventures. In the winter blizzards, the this brisk little girl stays warm when the hat is pressed tightly on her head and the dress is well buttoned.
When spring comes, girl elf dresses in light green. It settles in the woods, enjoys the singing of birds and the purl of a stem. As Christmas approaches, the outfit changes to red again.
Lovi Elf Girl is the perfect companion for the Lovi Elf. Place these two to sit together on the mantel to enjoy the Christmas atmosphere, keep an eye on the preparations progress from the windowsill, or accompany the darkening evenings into the nursery.
Send little girl elf to surprise your friends, or order a lovely little detail for your own Christmas decor. You can also put together a hilarious group of different sizes and colors of Lovi elves.
Show more
Show less
From 9,90€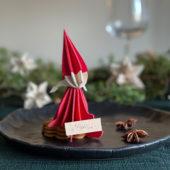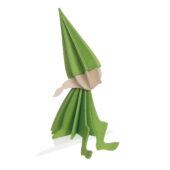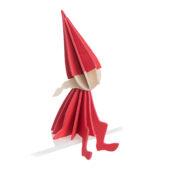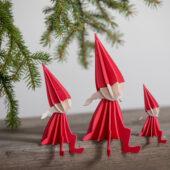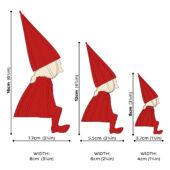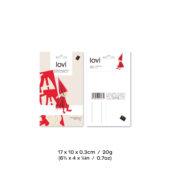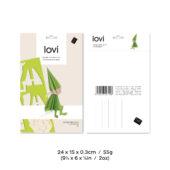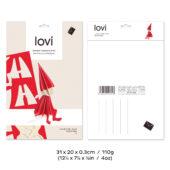 DETAILS
Package size / weight:
17 x 10 x 0.3cm / 20g (6¾ x 4 x ⅛in / 0.7oz)
24 x 15 x 0.3cm / 55g (9½ x 6 x  ⅛in / 2oz)
31 x 20 x 0.3cm / 110g (12¼ x 7⅞ x ⅛in / 3.9oz)
Colors: bright red, light green (sizes 8cm and 12cm)
Material: Eco-friendly Finnish birch plywood
Hand painted with water based, non-toxic toy paint. Natural wood material is seen through the thin paint layer.
Made in Finland. Plastic free. Easy to send postcard-like package. Illustrated instructions inside the package. Patented. Design: Anne Paso
Shipping costs
Finland: Free shipping for all orders
European Union & Rest of Europe: From 9.90€
United Kingdom: From 13.90€
North America: From 19.90€
Rest of The World:  From 24.90€
See free shipping tresholds & detailed information here.
DID YOU KNOW
The Elf Girl was born to complete Lovi Elf family in 2018.