Lovi Reindeer
Lovi Reindeer is a strong survivor of the northern nature. The windy fells and forests of Lapland are the home of this brave horn-head.
The graceful appearance, wide hooves and soft snout give the reindeer a sweet and friendly image. The reindeer may be considered a silly animal, but we believe these Santa's helpers are a very clever bunch. How else would they be able to fly around the world with Santa on Christmas eve?
Lovi Reindeer carries the glow of the snow, great northern lights in the darkest sky, and warm Christmas greetings from the North Pole.
Assemble this little reindeer according to the illustrated instructions in the package and lift it to create a northern feel on the mantel, windowsill or bookshelf. Wooden reindeer is also a stylish addition to the Christmas table setting.
Lovi Reindeer bright red only available on size 8cm at the moment.
Show more
Show less
From 9,90€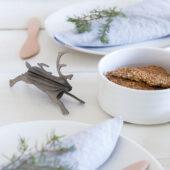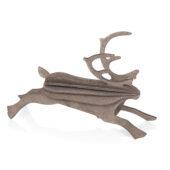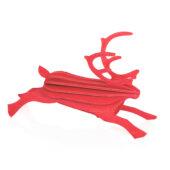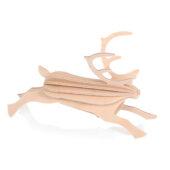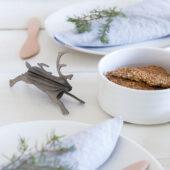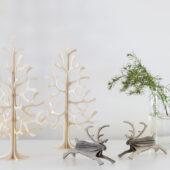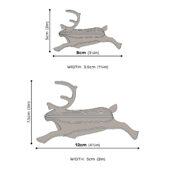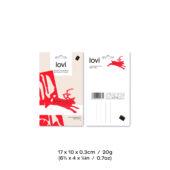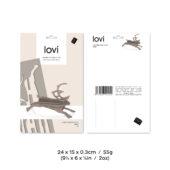 DETAILS
Package size / weight:
17 x 10 x 0.3cm / 20g (6¾ x 4 x ⅛in / 0.7oz)
24 x 15 x 0.3cm / 55g (9½ x 6 x  ⅛in / 2oz)
Colors: bright red, grey, natural wood
Material: Eco-friendly Finnish birch plywood
Hand painted with water based, non-toxic toy paint. Natural wood material is seen through the thin paint layer.
Made in Finland. Plastic free. Easy to send postcard-like package. Illustrated instructions inside the package. Patented. Design: Anne Paso
Shipping costs
Finland: Free shipping for all orders
European Union & Rest of Europe: From 9.90€
United Kingdom: From 13.90€
North America: From 19.90€
Rest of The World:  From 24.90€
See free shipping tresholds & detailed information here.
DID YOU KNOW
Reindeer roam free, but they always have an owner.
Lovi Reindeer is originally designed for a Sámi museum, Siida. Reindeer play a key role in Sámi culture. It means everything: housing, clothes, shoes, food and transportation in a difficult snowy terrain.
Rudolph the Red Nosed Reindeer has been leading Santa's sleigh since 1939. At the time, Robert L. May wrote the story of "the most famous reindeer of all times" in a Christmas coloring book that the Montgomery Ward department store distributed as gifts to children.