Lovi Bear
Lovi Bear lives in peace in the depths of the forest. It calmly explores its territory, tastes berries from the stem and grabs the fish from the stream flowing past. When the weather gets colder and winter arrives, the bear moves clumsily to its winter nest. Then it is time to lie back and relax until the spring melts the snow and ice with the help of the warming sun rays.
Bear is a mythical animal. There is a compelling peace and strength in its habits – its wisdom characteristic of the king of forest.
Lovi Bear takes your thoughts to the wilds. Assemble a piece of Nordic folklore on top of a bookshelf or on the edge of the desk to gently remind you of the greenery of nature and all the benefits it brings. Who would you like to send The Lovi Bear to?
Show more
Show less
15,90€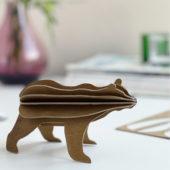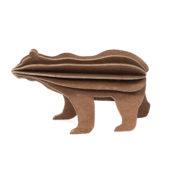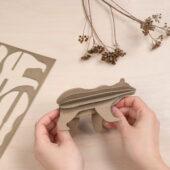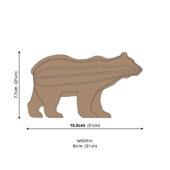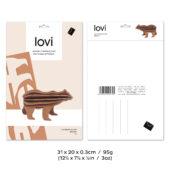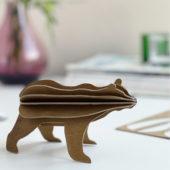 DETAILS
Package size / weight:
31 x 20 x 0.3cm / 95g (12¼ x 7⅞ x ⅛in / 3.35oz)
Colors: brown
Material: Eco-friendly Finnish birch plywood
Hand painted with water based, non-toxic toy paint. Natural wood material is seen through the thin paint layer.
Made in Finland. Plastic free. Easy to send postcard-like package. Illustrated instructions inside the package. Patented. Design: Anne Paso
Shipping costs
Finland: Free shipping for all orders
European Union & Rest of Europe: From 9.90€
United Kingdom: From 13.90€
North America: From 19.90€
Rest of The World:  From 24.90€
See free shipping tresholds & detailed information here.
DID YOU KNOW
The bear is a Finnish national animal. In ancient faith, the bear has been a sacred animal whose name was not allowed to be spoken out loud and so it has a lot of nicknames.