Lovi Tree 55cm
Lovi Tree 55cm is a 3D puzzle -like interior element made from Finnish birch plywood. The tree has 15 parts that go together as shown in the illustrated instructions included in the package. The calm roundness of the top, the curves of the twig tips, and even the smallest details of the joints have been carefully thought out to be pleasant and functional.
Raise a tree to decorate your living room, over a chest of drawers in the study, or create a natural atmosphere in the bedroom. Or would you like a spectacular stand for your jewelry? Lovi Tree 55cm is just the right size. It comes in black, brown, natural wood, warm yellow and pale green. Which color is right for your home?
Add small Lovi Birds or hanging ornaments to the branches of the tree and change your decorations according to the season. Suitable products and sizes to be combined with this tree are: Lovi Bird 8cm, Lovi Swallow 10cm, Lovi Baubles 3.5cm and Lovi Star 5cm.
The Lovi Tree 55cm is also a wonderful, ecological gift for a friend who appreciates nature, domesticity and timeless elegance. If you wish to disassemble it from time to time, the parts can be stored in a beautiful gift box.
Show more
Show less
119,00€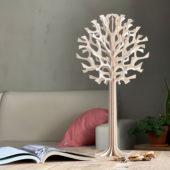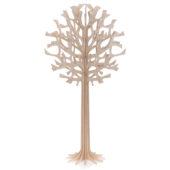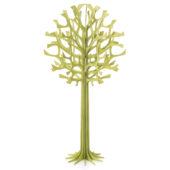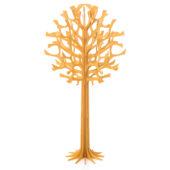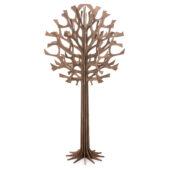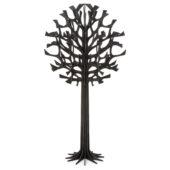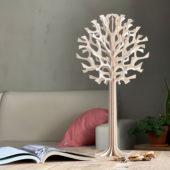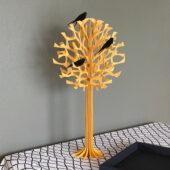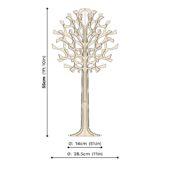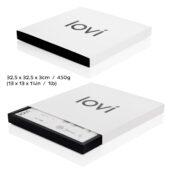 DETAILS
Package size / weight:
32.5 x 32.5 x 3cm / 450g ( 13 x 13 x 1¼in / 1lb )
Colors: black, brown, natural wood, pale green, warm yellow
Material: Eco-friendly Finnish birch plywood
Hand painted with water based, non-toxic toy paint. Natural wood material is seen through the thin paint layer.
Made in Finland. Plastic free. Easy to send flat package. Illustrated instructions inside the package. Patented. Design: Anne Paso
Shipping costs
Finland: Free shipping for all orders
European Union & Rest of Europe: From 9.90€
United Kingdom: From 13.90€
North America: From 19.90€
Rest of The World:  From 24.90€
See free shipping tresholds & detailed information here.
DID YOU KNOW
Biophilia means a person's love for nature and a desire to experience a connection with it. Biophilic design, in turn, brings nature closer to our everyday lives by adding natural elements to environments, buildings and interiors. The use of natural materials and forms increases well-being and happiness, reduces stress and promotes creativity.
Lovi has donated tree seedlings to the world's drought, flood and erosion areas since 2009.
115, 000 trees planted to date. Since 2020, we have committed to planting 50,000 tree seedlings annually.