Lovi Spruce 100cm
Lovi Spruce 100cm is a 3D puzzle -like Christmas tree made from Finnish birch plywood. Assembling this beautiful spruce is an easy way to get into the Christmas spirit. The softness of the natural material and the beautiful conical shape create a peaceful atmosphere around it.
The Spruce is assembled from 15 parts. The diameter of the branch is 58cm at its widest and the leg part is 29cm. The size of the package is 58 x 58 x 4cm and the weight is 2kg.
Assembling and disassembling the Lovi Spruce is easy. Be sure to save the package to store the parts until the next year.
Lovi Spruce 100cm is perfect size for a small home. Place the spruce on a low table or a stool and decorate with baubles and ribbons. Enjoy your spruce after Christmas by sitting Lovi Birds or Swallows on the branches to create a spring atmosphere.
Show more
Show less
349,00€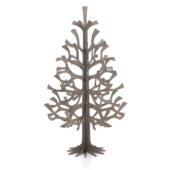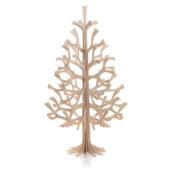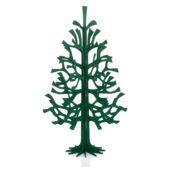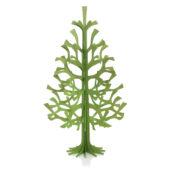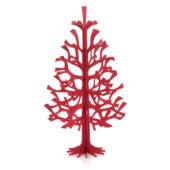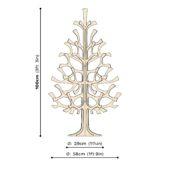 DETAILS
Package size / weight:
58 x 58 x 4cm / 2kg (1ft 11in x 1ft 11in x 1½in / 4.4lb)
Colors: bright red, dark green, grey, light green, natural wood
Material: Eco-friendly Finnish birch plywood
Hand painted with water based, non-toxic toy paint. Natural wood material is seen through the thin paint layer.
Made in Finland. Plastic free. Gift box -like package with illustrated instructions. Patented. Design: Anne Paso
Shipping costs
Finland: Free shipping for all orders
European Union & Rest of Europe: From 9.90€
United Kingdom: From 13.90€
North America: From 19.90€
Rest of The World:  From 24.90€
See free shipping tresholds & detailed information here.
DID YOU KNOW
The Christmas tree has a history spanning hundreds of years. Already in the 15th century, records were made in Tallinn, Estonia of the use of spruce as an ornament in the Town Hall Square during the winter solstice. In Latvia, it is thought that the first Christmas tree would have been in use in Riga in 1510. After some discussion, it was eventually concluded that the first Christmas tree was in use in Livonia, to which both countries belonged at the time.