Moominpappa
Moominpappa by Lovi wears his signature, a black top hat, with pride.  In form he is a very traditional Moomin. Under the round snout is a plump belly. The arms and legs are small and there is a tassel at the end of the long tail. He was created after the original illustrations by Tove Jansson, the beloved author and illustrator of Moomin stories.
The family is the most important thing in the life of this boyish character and he is ready to do anything for Moominmamma and Moomintroll.
Sometimes life in the Moomin Valley begins to bore Moominpappa. That's when he packs his stuff, sometimes his family too, and goes looking for adventures. Often these adventures occur at the sea and nearby rising islands.
Moominpappa loves the sea and writing. He enjoys talking about the adventures of his youth and diligently writes his memoirs. He is very happy to chat with guests who are spending time at Moomin House. Often, he also sits on the porch of the Moominhouse immersed in his dreams, a cup of steaming coffee in his hand.
Moominpappa by Lovi is standing firmly on a bookshelf wondering life or watching the weather on the windowsill. This wooden 3D Moomin figure is also a great gift for a father or grandfather who already seems to have a little bit of anything.
Show more
Show less
17,90€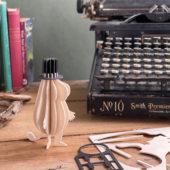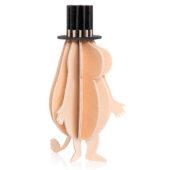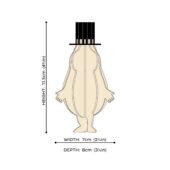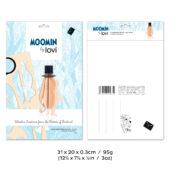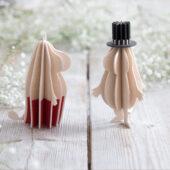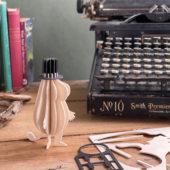 DETAILS
Package size / weight:
31 x 20 x 0.3cm / 110g (12¼ x 7⅞ x ⅛in / 3oz)
Color: natural wood with black hat
Material: Eco-friendly Finnish birch plywood
The hat is hand painted with water based, non-toxic toy paint. Natural wood material is seen through the thin paint layer.
Made in Finland. Plastic free. Easy to send postcard-like package. Illustrated instructions inside the package. Patented. Design: Anne Paso, after the original illustrations by Tove Jansson
Shipping costs
Finland: Free shipping for all orders
European Union & Rest of Europe: From 9.90€
United Kingdom: From 13.90€
North America: From 19.90€
Rest of The World:  From 24.90€
See free shipping tresholds & detailed information here.
DID YOU KNOW
"Making a journey by night is more wonderful than anything in the world."
-Moominpappa, from the book Moominpappa at Sea, Tove Jansson 1965