Snorkmaiden
Snorkmaiden by Lovi sits still with her tail tassel charmingly elevated. She was created after the original illustrations by Tove Jansson, the beloved author and illustrator of Moomin stories.
Snorkmaiden belongs to the Snork family. Snorks and Moomins are very similar, but Snorks can change color according to their moods.
This girly character from Moomin stories is very romantic. She loves beautiful things and flowers. On her left ankle, she wears a golden ankle ring and her yellow front hair is always outstretched. Day dreaming is her favorite hobby, especially fantasizing the prince of her dreams.
Despite her carefree and happy nature, Snorkmaiden is a very resourceful and, if necessary, active young lady. She admires Moomintroll and likes to spend time with him.
Do you know someone that resembles Snorkmaiden? Order her own little moomin figure by Lovi as a surprise gift.
Show more
Show less
15,90€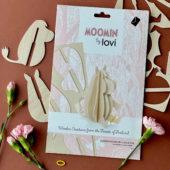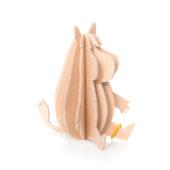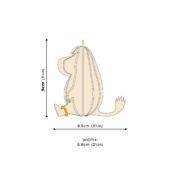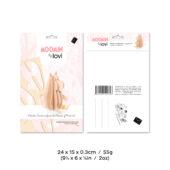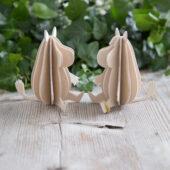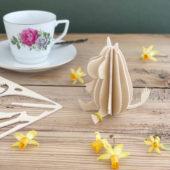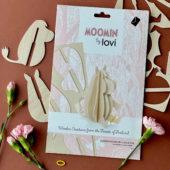 DETAILS
Package size / weight:
24 x 15 x 0.3cm / 55g (9½ x 6 x  ⅛in / 2oz)
Color: natural wood with yellow bangle
Material: Eco-friendly Finnish birch plywood
The ankle ring is hand painted with water based, non-toxic toy paint. Natural wood material is seen through the thin paint layer.
Made in Finland. Plastic free. Easy to send postcard-like package. Illustrated instructions inside the package. Patented. Design: Anne Paso, after the original illustrations by Tove Jansson
Shipping costs
Finland: Free shipping for all orders
European Union & Rest of Europe: From 9.90€
United Kingdom: From 13.90€
North America: From 19.90€
Rest of The World:  From 24.90€
See free shipping tresholds & detailed information here.
DID YOU KNOW
"Don't think about bad things, that's my motto!"
-Snorkmaiden