Moomintroll
Moomintroll  by Lovi sits on the groud, the tail tassel nicely upright. He was created after the original illustrations by Tove Jansson, the beloved author and illustrator of Moomin stories.
Moomintroll is the first Moomin character created by Tove Jansson and the main character of Moomin stories. He's brisk and brave, sometimes even a little reckless, and he never refuses new adventures. This little moomin is also very sensitive and thoughtful. He loves his family and friends and enjoys spending time with them.
His best friend is Snufkin and he also likes Snorkmaiden very much.
As the winter is getting closer, Moomintroll, like all other Moomins, snuggles under the blankets and falls asleep. In the spring, when the sun begins to warm up again, the Moomins wake up with the nature, and continue their happy life in the Moomin Valley.
Assemble and place your Moomin figure on a bookshelf or in a children's room and bring a piece of the most beloved stories to your home. Or send a gift to someone who reminds you of this brave and thoughtful little Moomin.
Show more
Show less
15,90€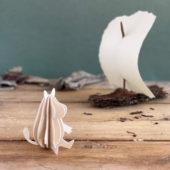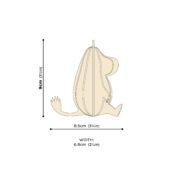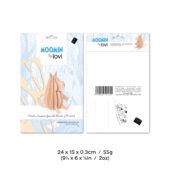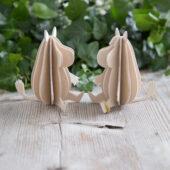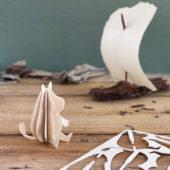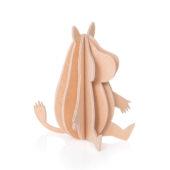 DETAILS
Package size / weight:
24 x 15 x 0.3cm / 55g (9½ x 6 x  ⅛in / 2oz)
Color: natural wood
Material: Eco-friendly Finnish birch plywood
Made in Finland. Plastic free. Easy to send postcard-like package. Illustrated instructions inside the package. Patented. Design: Anne Paso, after the original illustrations by Tove Jansson.
Shipping costs
Finland: Free shipping for all orders
European Union & Rest of Europe: From 9.90€
United Kingdom: From 13.90€
North America: From 19.90€
Rest of The World:  From 24.90€
See free shipping tresholds & detailed information here.
DID YOU KNOW
Tove Jansson, was a painter, illustrator and fine writer. There is a lot of timeless life wisdom in Moomin books:
"He thought about how much he loved everything: the forest and the sea, the rain and the wind, the grass and the moss, and how impossible it would be to live without them all."
-Moomin, from the book Comet in Moominland, Tove Jansson 1946