Little My
Little My by Lovi stands briskly with small legs firmly on the ground and hands on her hips, ready to receive anything that appears in front. She was created after the original illustrations by Tove Jansson, the beloved author and illustrator of Moomin stories.
Little My is brave and fearless, sometimes a little bit angry, but never intentionally mean. She thinks she is so small that nothing bad can happen to her. If someone is mean, she might bite a little. Sometimes, though, My may also bite from the sheer joy of biting.
Although she is not related to the Moomins, she lives in the Moominhouse with the Moomintroll, Moominmamma and Moominpappa. She is small enough to fit perfectly in a teapot or kitchen drawer.
Little My by Lovi wears a striped dress that can be buttoned from the back, wraps an orange knot to swing over her head and scuttles to new adventures with feisty clopping heels. Do you know anyone who resembles her?
Assemble this little determined wooden girl yourself or send as a delightful gift to your friend. There is always room for Little My in every Moominous home.
Show more
Show less
11,90€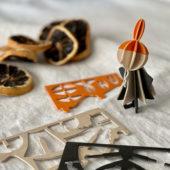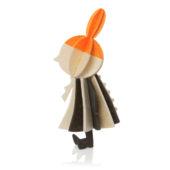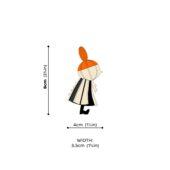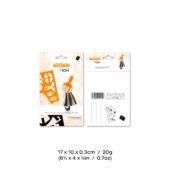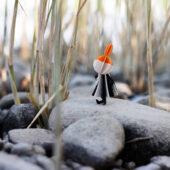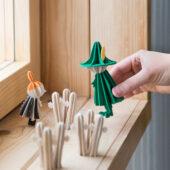 DETAILS
Package size / weight:
17 x 10 x 0.3cm / 20g (6¾ x 4 x ⅛in / 0.7oz)
Color: natural wood with orange topknot and black dress and shoes
Material: Eco-friendly Finnish birch plywood
The topknot, dress and shoes are hand painted with water based, non-toxic toy paint. Natural wood material is seen through the thin paint layer.
Made in Finland. Plastic free. Easy to send postcard-like package. Illustrated instructions inside the package. Patented. Design: Anne Paso, after the original illustrations by Tove Jansson
Shipping costs
Finland: Free shipping for all orders
European Union & Rest of Europe: From 9.90€
United Kingdom: From 13.90€
North America: From 19.90€
Rest of The World:  From 24.90€
See free shipping tresholds & detailed information here.
DID YOU KNOW
"If you're sore, you're sore,' observed Little My, peeling her potatoes with her teeth. 'You have to be angry sometimes. Every little creep has a right to be angry."
-Little My, from the book Moominpappa at Sea, Tove Jansson 1965
Little My's name is said to have been inspired by the Greek letter µ. µ was once the symbol of a millionth of a meter and can therefore be thought of as the smallest that exists.