Hattifatteners
Hattifatteners are always on their way. They wander around in large flocks, waving their small hands. Hattifatteners often sail the seas in small boats, but also travel on the land. No one knows where they come from or where they go.
Hattifatteners are mainly completely harmless. They say nothing and do not hear, just tremble and continue their journey. However, during thunderstorms, they become electric and then you should be careful.
Hattifatteners by Lovi were created after the original illustrations by Tove Jansson, the beloved author and illustrator of Moomin stories.
These little wooden Moomin by Lovi figurines are packed in plastic-free packages. Inside the package there are three tiny creatures to be joined together as a group. Assembly is easy with the illustrated instructions in the package.
Add some mystery of Moomin Valley to your decoration. Or send a lovely gift to your friend who is in need of some electricity.
Show more
Show less
9,90€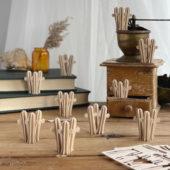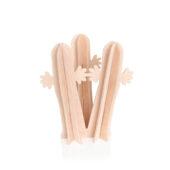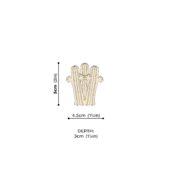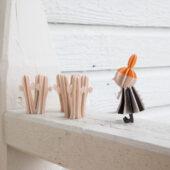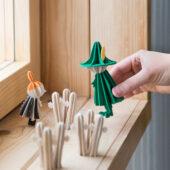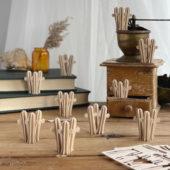 DETAILS
Package size / weight:
17 x 10 x 0.3cm / 20g (6¾ x 4 x ⅛in / 0.7oz)
Color: natural wood
Material: Eco-friendly Finnish birch plywood
Made in Finland. Plastic free. Easy to send postcard-like package. Illustrated instructions inside the package. Patented. Design: Anne Paso, after the original illustrations by Tove Jansson.
Shipping costs
Finland: Free shipping for all orders
European Union & Rest of Europe: From 9.90€
United Kingdom: From 13.90€
North America: From 19.90€
Rest of The World:  From 24.90€
See free shipping tresholds & detailed information here.
DID YOU KNOW
"Hattifatteners," Hodgkins said. "Electrical sailing."
"Hattifatteners," I whispered excitedly. "Traveling and traveling and never getting there…"
"Thunderstorms charge them," Hodgkins said. "Sting like nettles."
"And they live a wicked life," the Joxter informed.
"A wicked life?" I repeated with interest. "How?"
"I don't quite know," said the Joxter. "Trampling down people's gardens and drinking beer, and so on, I suppose."
From the book Exploits of Moominpappa, Tove Jansson 1950