Snufkin
Snufkin by Lovi is inspired by the wagabond of the Moomin stories. A naturally living philosopher does not want to own anything; a tent, a harmonica and the clothes he is wearing are enough. Owning anything would make life too complicated. He was created after the original illustrations by Tove Jansson, the beloved author and illustrator of Moomin stories.
Snufkin is Moomintroll's best friend. In the summertime, they spend time together adventuring, fishing and chatting, but in the fall, in November, Snufkin travels south, returning to Moomin Valley again on the first day of spring.
This little character from Moomin valley wears a forest green coat and presses a brimmed hat on his head, under which he looks at the world. The hat is decorated with a feather, said to have fallen from a condor eagle seen flying in the sky in the book Comet in the Moominland.
Are you the lucky one to have a Snufkin-like friend? With whom you can have the deepest conversations and with whom silence is not annoying, but meaningful.
Show more
Show less
15,90€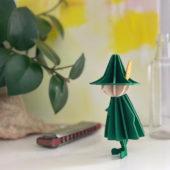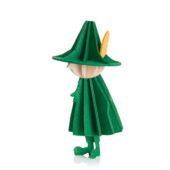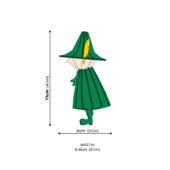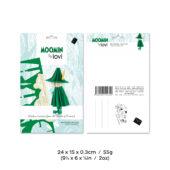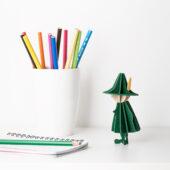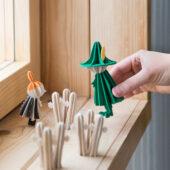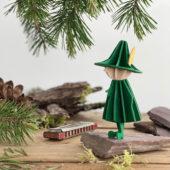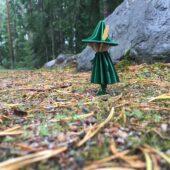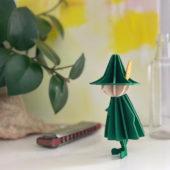 DETAILS
Package size / weight:
24 x 15 x 0.3cm / 55g (9½ x 6 x  ⅛in / 2oz)
Color: dark green with natural wood head and warm yellow feather
Material: Eco-friendly Finnish birch plywood
Hand painted with water based, non-toxic toy paint. Natural wood material is seen through the thin paint layer.
Made in Finland. Plastic free. Easy to send postcard-like package. Illustrated instructions inside the package. Patented. Design: Anne Paso, after the original illustrations by Tove Jansson
Shipping costs
Finland: Free shipping for all orders
European Union & Rest of Europe: From 9.90€
United Kingdom: From 13.90€
North America: From 19.90€
Rest of The World:  From 24.90€
See free shipping tresholds & detailed information here.
DID YOU KNOW
"Stars!" he exclaimed. "Then I must come with you. Stars are my favorite things. I always lie and look at them before I go to sleep and wonder who is on them and how one could get there. The sky looks so friendly with all those little eyes twinkling in it."
-Snufkin, from the book Comet in Moominland, Tove Jansson 1946