The Original Lovi Baubles 4cm, 6pcs
The Original Lovi Baubles 4cm. The first Lovi products. This is where it all started.
We went back to our roots and brought these six-piece baubles back into our range in multipacks. The natural surface and feel of the wood, the calm round shape and the joy of making things by hand. The perfect decoration for your family's Christmas tree or as a gift for a loved one.
The Original Lovi Baubles 4cm are the smallest of these reintroduced baubles. The other sizes are 6cm and 8cm. You can assemble six baubles from the package that come in five color options: natural wood, dark red, bright red, dark green, and light green. After taking them out of the spruce, form a box from the flat package to store the assembled baubles. This way they stay intact for future celebrations.
Gather together at the table and assemble the baubles to hang on the branches of the Christmas tree. Choose baubles of different sizes and colors in glowing Christmas shades.
Show more
Show less
19,90€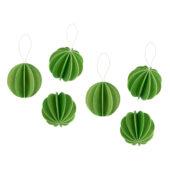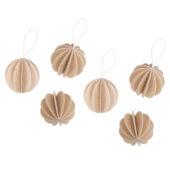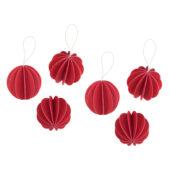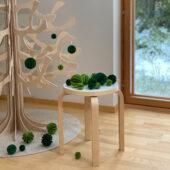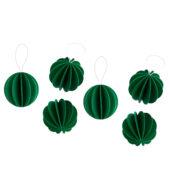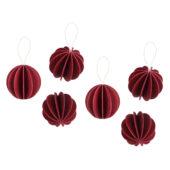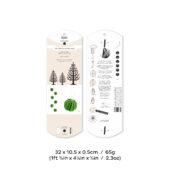 DETAILS
Package size / weight:
32 x 10.5 x 0.5cm / 65g (1ft⅝in x 4⅛in x ⅛in / 2.3oz)
Colors: bright red, dark green, dark red, light green, natural wood
Material: Eco-friendly Finnish birch plywood
Hand painted with water based, non-toxic toy paint. Natural wood material is seen through the thin paint layer.
Made in Finland. Plastic free. Easy to send flat package. Illustrated instructions inside the package. Patented. Design: Anne Paso
Shipping costs
Finland: Free shipping for all orders
European Union & Rest of Europe: From 9.90€
United Kingdom: From 13.90€
North America: From 19.90€
Rest of The World:  From 24.90€
See free shipping tresholds & detailed information here.
DID YOU KNOW
The Lovi baubles were originally packaged individually but since one ball is just not enough to decorate a spruce, we decided to bring the baubles back into the range. Now they are in convenient multipacks where the problem of storing the balls has also been solved.