DECORATING CHRISTMAS CAKES WITH LOVI FIGURES
Decorating Christmas cakes -post marks the end of our year-long Cake of the Month project. During the project, we've decorated, photographed and tasted a total of 12 beautiful, delicious cakes. No matter the festive season at hand, Lovi's selection has had the right figure for each and every cake.
The delicious year comes to an end with our last three cakes. While October's cake takes us back to the spirit of Halloween, November's cake is already all about that Christmas ambiance.
THE CAKE FOR ALL HALLOWS EVE
Celebrated during the ever-darkening nights of October, Halloween exudes a sombre and mystical atmosphere, with a slight hint of magic in the air. Halloween in Finland combines elements from an old Finnish autumn feast called kekri, the traditional All Saints' Day as well as the common way Halloween is known to be celebrated around the world.
The black version of the sleek and beautiful Lovi Cat found its rightful spot on the cake for November. Black cats have been associated with myths and fables throughout history, evoking both fear and reverence. While they've been associated with both misfortune and luck, we know that only the latter is true.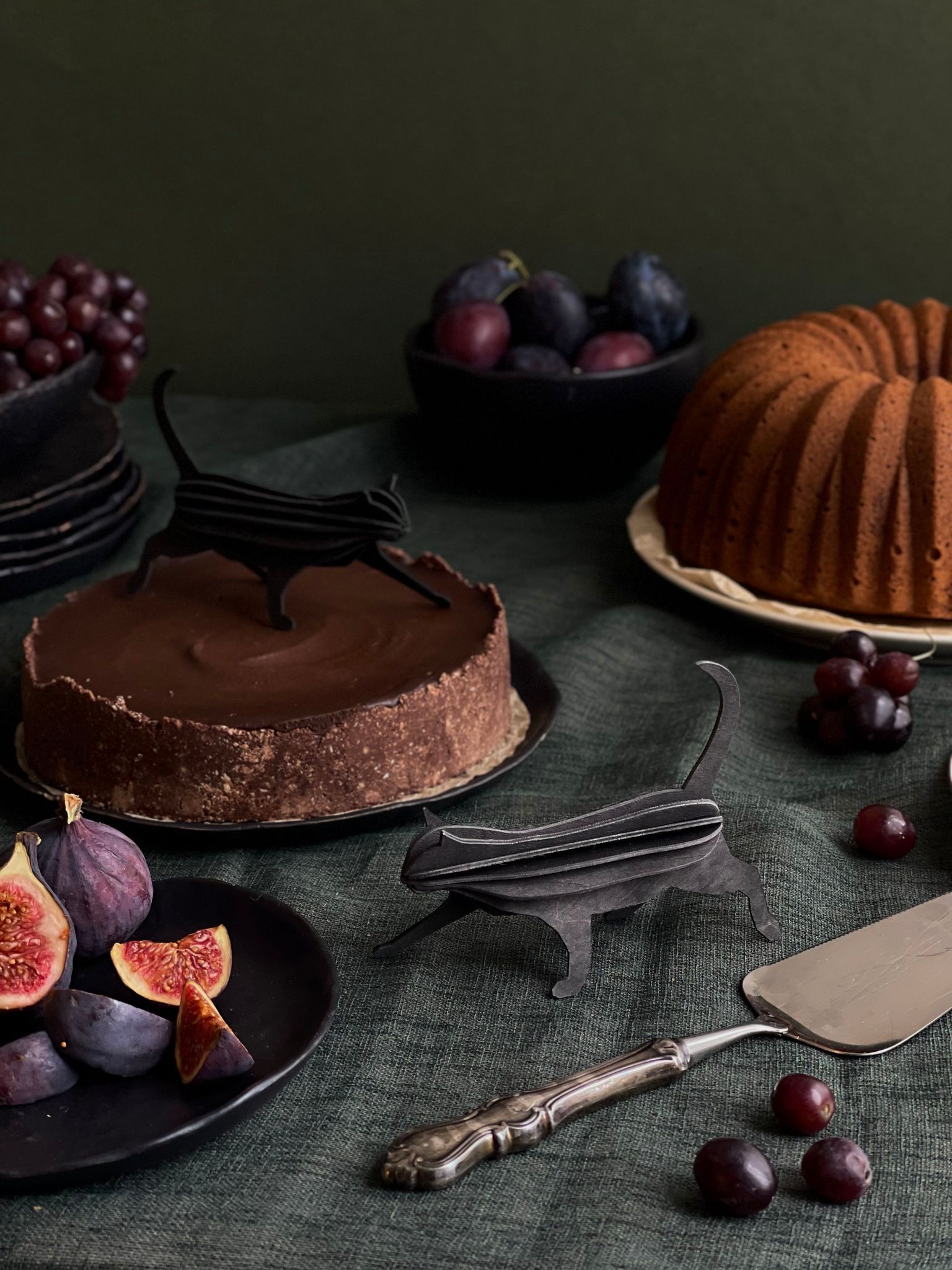 Our cake of choice for Halloween ended up being a full-bodied and dark, vegan salted caramel no-bake cake, combining the delicious flavours of cocoa and dates with an oaty base.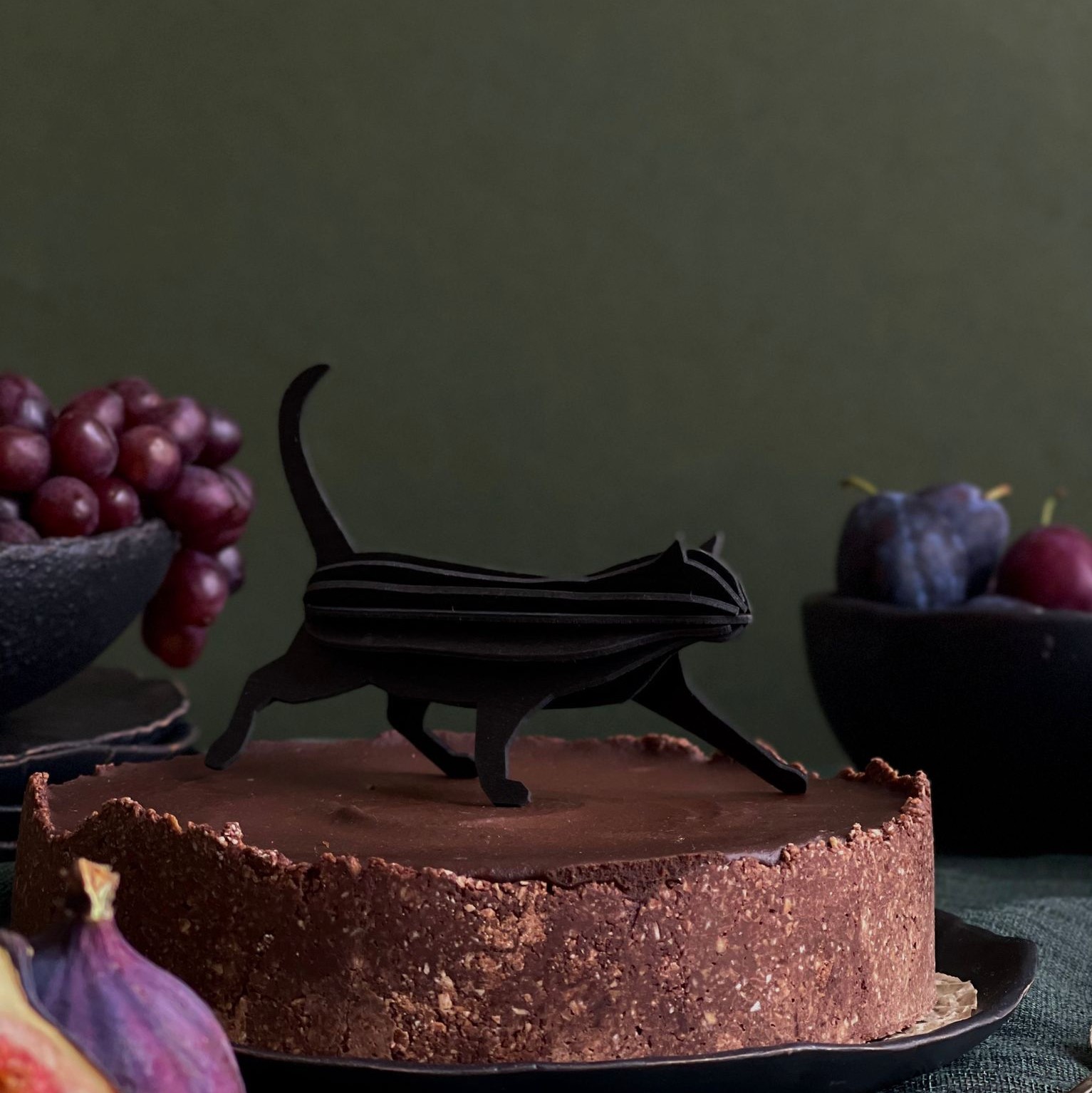 TOWARDS THE CHRISTMAS SPIRIT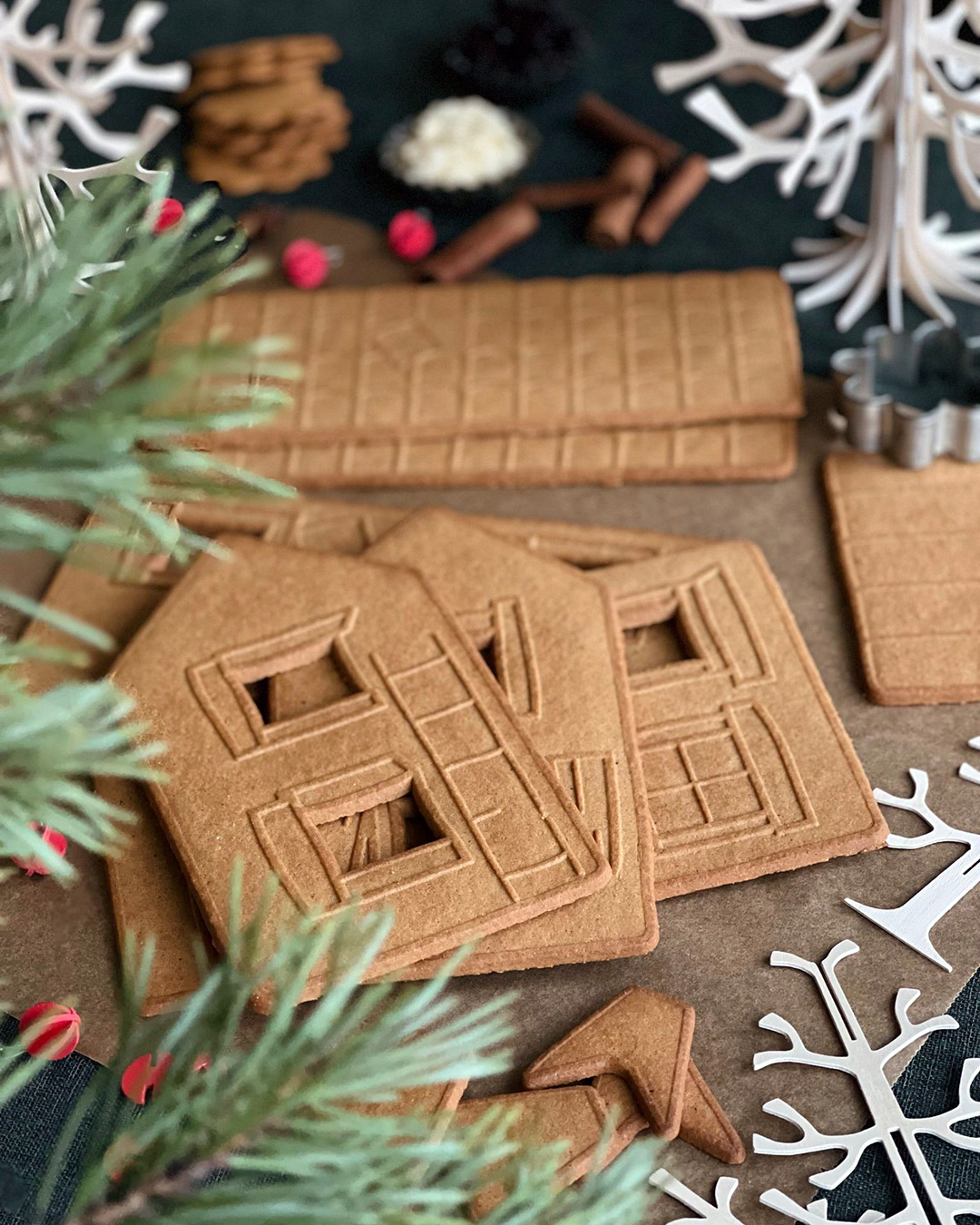 In November, we switched right into Christmas mode here in our little factory by building a sweet gingerbread house as the cake of the month, with smells of clove, cinnamon and cardamon filling our break room. Decorating the house was met with a child-like glee. Whoever might live in the house? How should the yard be built?
Baking a gingerbread house takes time and patience. Luckily for us, it's also possible to get the pieces pre-baked, allowing the builder to focus on assembling the house without having to worry about any preparations. Following this tried-and-true method, we ended up finding the pieces for our gingerbread house from a store nearby.
Our Lovi Elves found their home in the gingerbread house, surrounded by Lovi Spruces and decorated with Lovi Baubles and Lovi Reindeers, along with cinnamon sticks and star anises. Powdered sugar coated the roof in snowy hues while the inside of the house was spiced up with appropriate illumination for the festive season. Such a wonderful little Christmas project! Time will tell if we'll ever even dare to taste it.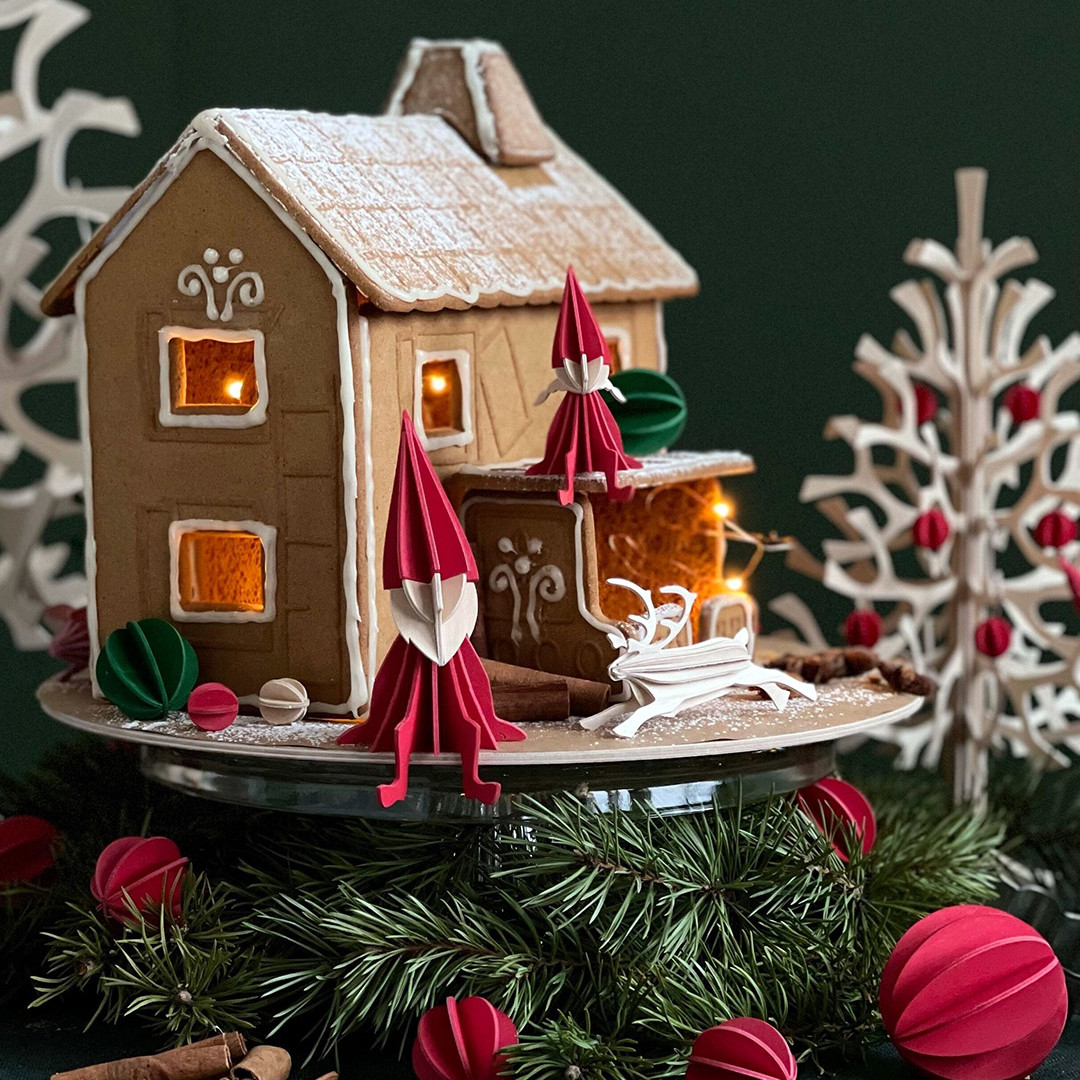 DECORATING CHRISTMAS CAKES WITH LOVI ELVES
Christmas time is full of joy, magic and delicious treats. Tables are set beautifully with a mix of old and new, the past and the future, and tradition is present both visually and in the flavours.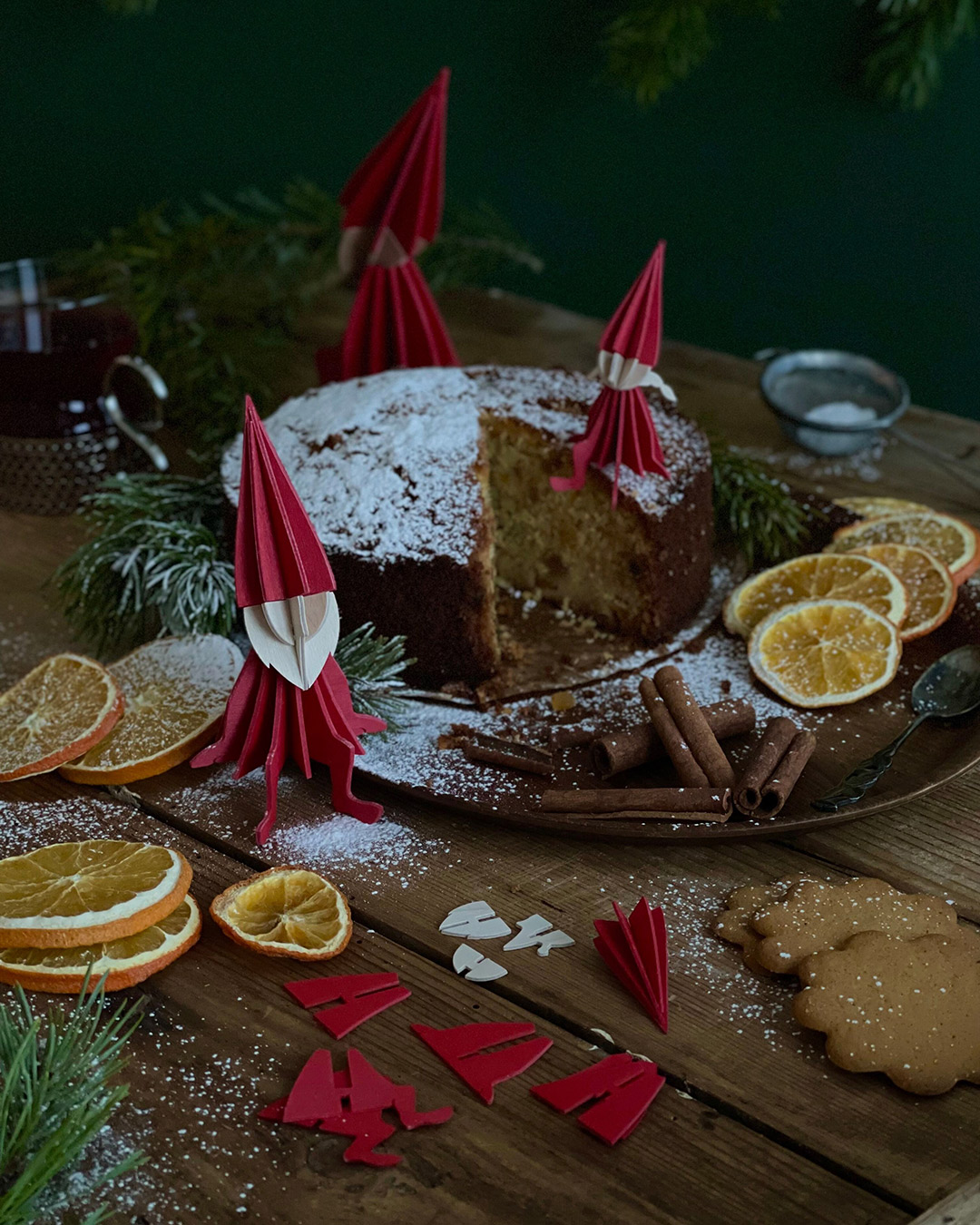 In December, a fresh scent of oranges emanated from Meri's kitchen in the form of the final creation in our Cake of the Month project, a traditional dried fruit cake.
As befits their status as the most popular small figures in our selection during Christmas time, Lovi Elves once again found their place in our December festivities. A whole host of elves arrived in all forms, both big and small, dressed in red. Elves on top of the cake, elves beside the cake, elves as part of the rest of the setting, you name it. Because there can be no such thing as too many elves.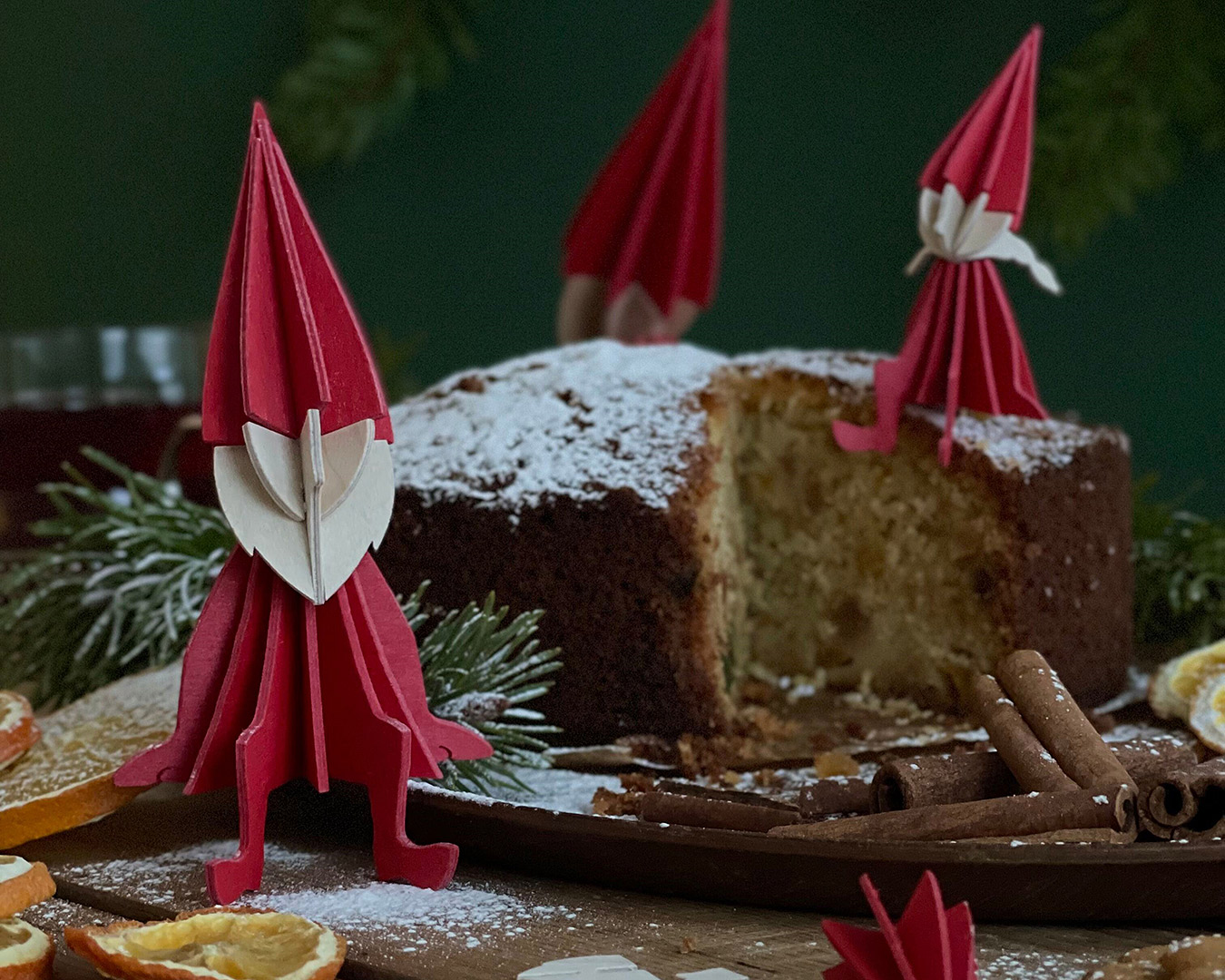 You can find more ideas for decorating your cakes from our earlier posts: Wooden cake toppers by Lovi, Easy cake decoration ideas, and How to decorate a cake with Lovi figures?
Share pictures of your cakes alongside with Lovi figures and tag them on Instagram @lovi_finland_ so that we get to enjoy your creations as well.
2022 was the year of beautiful, delicious cakes. We have all sorts of fun lined up for 2023 as well, so stay tuned!
Merry Christmas and a happy new year to you!