HOW TO DECORATE A CAKE WITH LOVI FIGURES
How to decorate a cake with a little twist? Easily, quickly and preferably in such a way that the cake decoration can be saved for later use. And does the decoration always have to be on top of the cake? What if you decorate the whole table with lovely figures?
We have had such a delicious time here at Lovi factory during this year! We have had a little monthly cake celebration and it has been so nice! In addition to eating, we have enjoyed planning and photographing these wonderful cakes, too. It's been a nice change to our days. In this post, we'll jump back to the summer for a moment, when we present the cakes of July and August, and also take the first step to autumn cakes with the cake of September.
SUMMER CAKE
The cake of July shone like the sun and the little Lovi Sea Turtles completed the beauty.
Fresh cream and sweet caramel on a crispy biscuit base was just the most perfect summer treat. A wonderful dessert idea for a summer picnic or a party on the beach!
We placed two different sized Lovi Sea Turtles on top of the cake and cut small pieces of baking paper under their feet to prevent the cake frosting from sticking to them.
The cake of July was made by Hyvä Kakku, the same bakery that has baked some of our delicious cakes of the month earlier.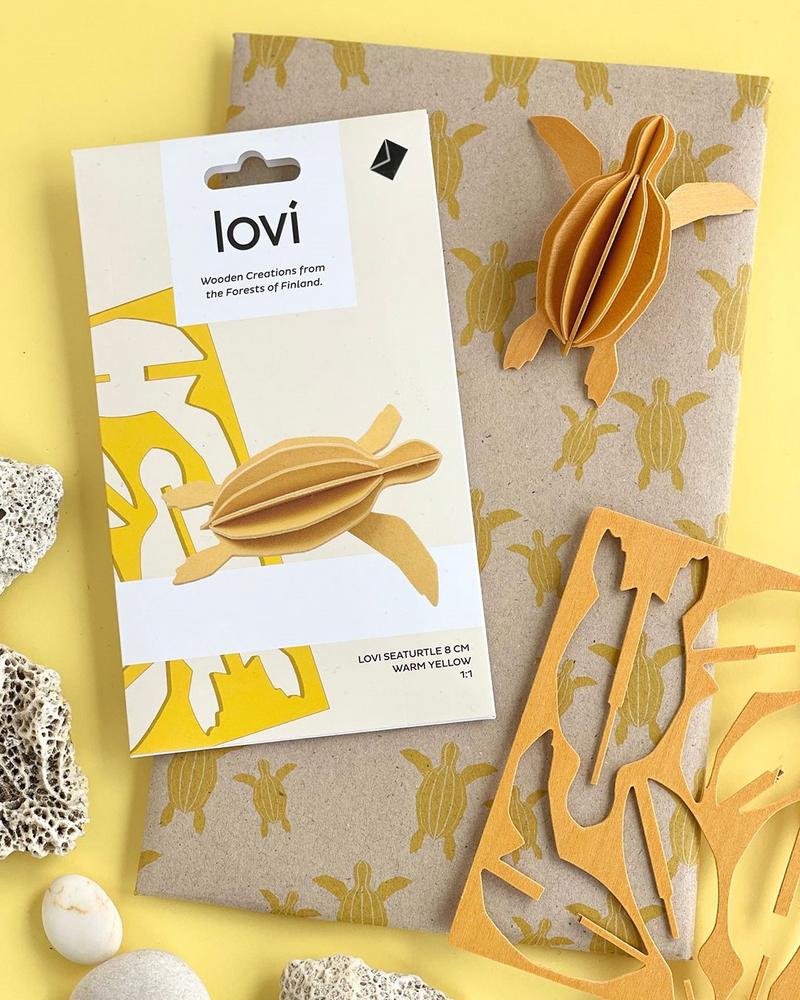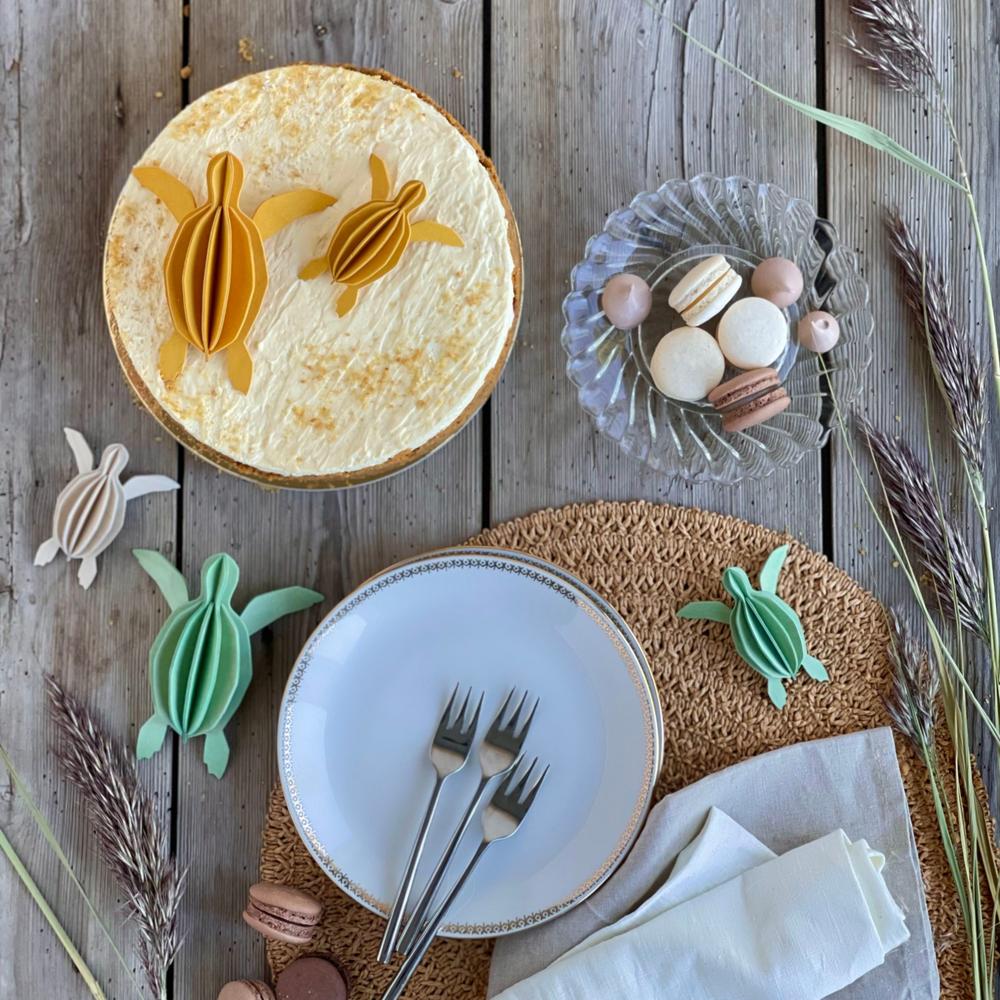 A CAKE FEAST WITH MOOMINS
August is the time of fresh, juicy berries and laid-back garden parties. They both made us think of Moomins. Tove Jansson, whose birthday is actually celebrated in August, has created the most imaginative world with Moomins, Snorks, Mymbles, Hemulens and many more. All the stories about friendship, caring, tolerance and happy endings are dear to us and the great inspiration for Moomin by Lovi figures.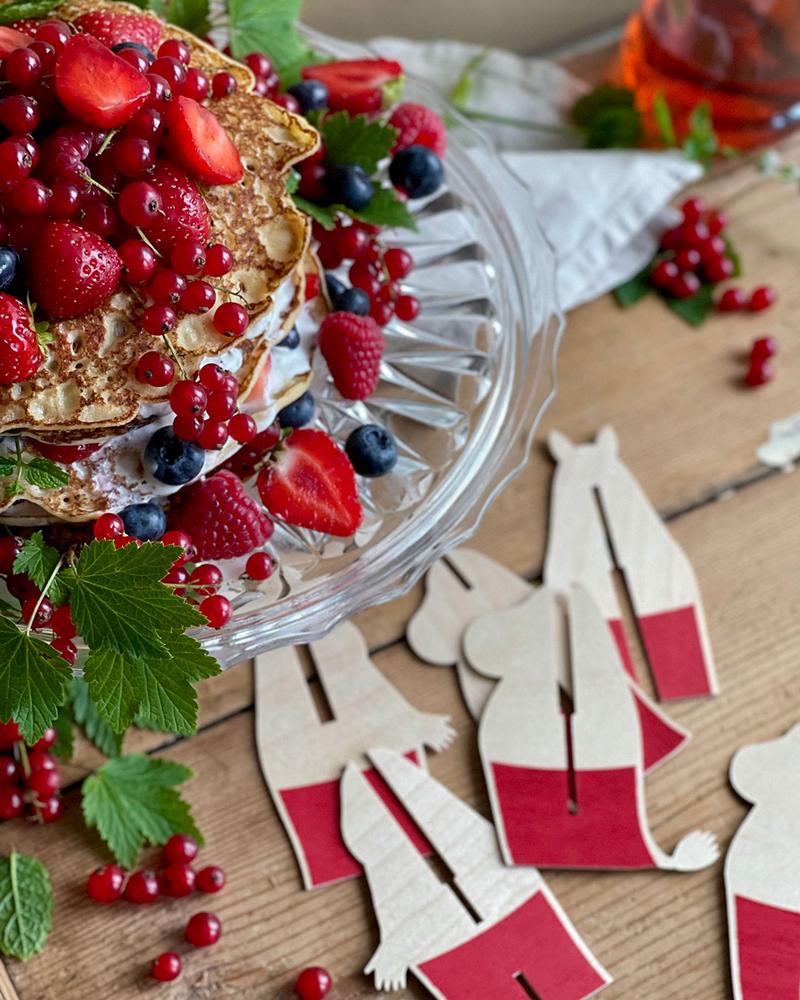 If you are familiar with the Moomin stories, you know that no one leaves Moominamma's kitchen with an empty stomach. So, with Moominmamma in mind, we baked a stack of thin pancakes and put them together into a pancake cake with fresh whipped cream, strawberries, blueberries, raspberries and redcurrants. How good it was!
The whole Moomin by Lovi family gathered around the pancake cake. Moominmamma of course, as she was kind of the special guest of the party, Little My, Snorkmaiden, Moomintroll, Snufkin, Moominpappa and Hattifattiners.
So the next time you think about how to decorate a cake or party table in a new, delightful way, visit the Lovi Online Store.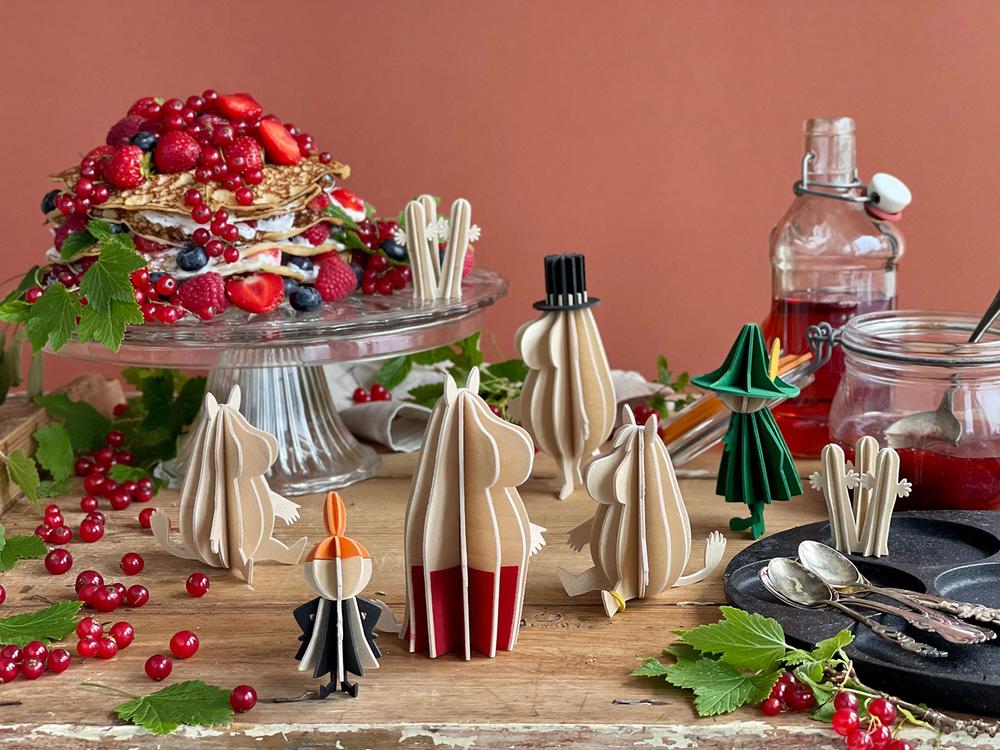 TRADITIONS, TRADITIONS, TRADITIONS
September is the month of colors, scents and flavours. Harvest time offers us fresh vegetables and fruits. For some reason, autumn also brings to mind memories and traditions from childhood. Bundt cake was a very popular pastry in those days. There were countless different variations.
We added autumn into our own bundt cake. Meri, the person in charge of our production, is a very skilled baker and she came up with a cake that combines the flavours of autumn spices: cinnamon, cardamom, gingerbread spice and cocoa. The carrot puree mixed into the dough brought wonderful moisture and juiciness to the cake.
Who would be better to decorate a harvest time cake than a Lovi Mouse? A small, light mice on top of the cake and looking for crumbs on the table looked lovely. We used natural wood Lovi Mice this time, but there are other colors as well. In addition to the traditional grey, there are lovely light pink and light blue variations.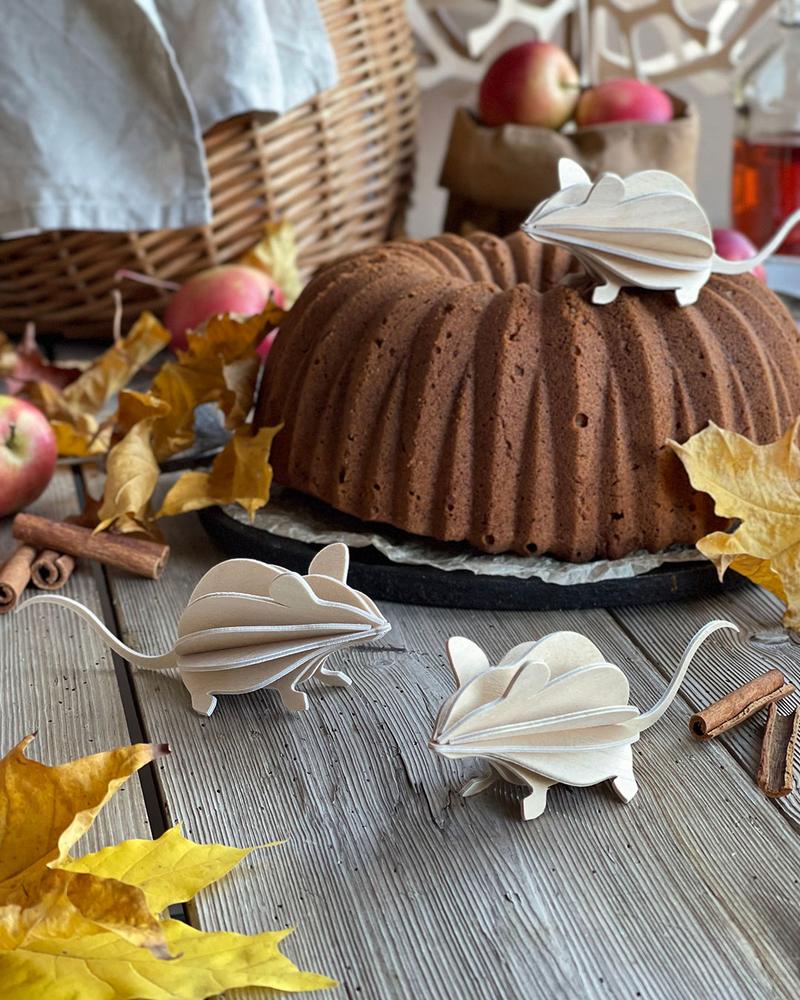 There are still three beautiful and delicious cakes left. You can get a little taste of the October cake on @lovi_finland_ on Instagram and @LoviFinland on Facebook. There are already pictures of it, but we will tell you more in December, when the remaining cakes have been decorated and the last cake crumbs eaten.
You can find the previous cakes in our posts Easy Cake Decoration Ideas and Wooden Cake Toppers by Lovi. Read more about how to decorate a cake with Lovi figures and get inspired!