A LITTLE GUIDE FOR CHOOSING THE RIGHT LOVI SPRUCE
Taking a Christmas tree out of storage, putting it together and decorating it is a wonderful way to start the festivities. Big or small, a Christmas tree provides a finishing touch to every household's festive decor.
Timeless design stands the test of time. You can assemble your Lovi Spruce over and over again, each and every year. Made from high-quality Finnish birch plywood, our trees last for years, even forever when kept well.
With seven size options on offer, you're bound to find a tree that's just the right size for your or your friend's household.
A POSTCARD-SIZED MINI SPRUCE
Lovi Spruce 14cm is the smallest tree in our catalogue, coming in four parts. This size option is for everyone, and there are four colors of choice: natural wood, light green, dark green, and bright red. You could even get one of each and put them in a row on a window ledge or your bookshelf.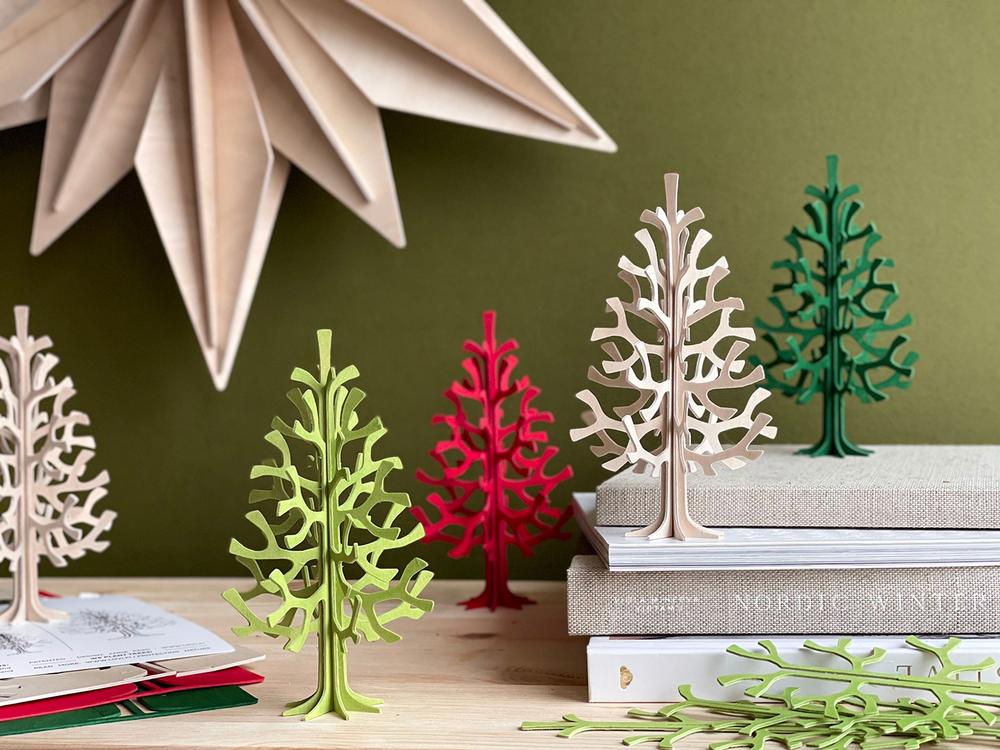 Lovi Spruce 14cm makes a wonderful Christmas card or a gift to a friend. It's also a popular memento of Christmas and the perfect way to say thank you to a daycare centre staff and teachers.
Shipping the tree is easy. All you need to do is to write down contact information on the back of the package and make sure you add a sufficient amount of postage stamps. Since the product weighs only 85g, you won't need so many.
Lovi Spruce 14cm makes a great addition to all the other Christmas decorations in your collection. Put one in a nursery to create a festive atmosphere or make it an addition to the outside of a gingerbread house.
TABLE DECOR-SIZED LOVI SPRUCES
Our table decor-sized options (25cm, 30cm and 50cm) are a great addition to every household's Christmas decorations. Assemble one or more and put them on a window ledge, bookshelf or a side table.
Lovi Spruce 25cm is a delicate 10-part product which fits in nicely into an arrangement with its bigger cousins, perhaps with a couple of Lovi Reindeer and Elves thrown into the mix as well.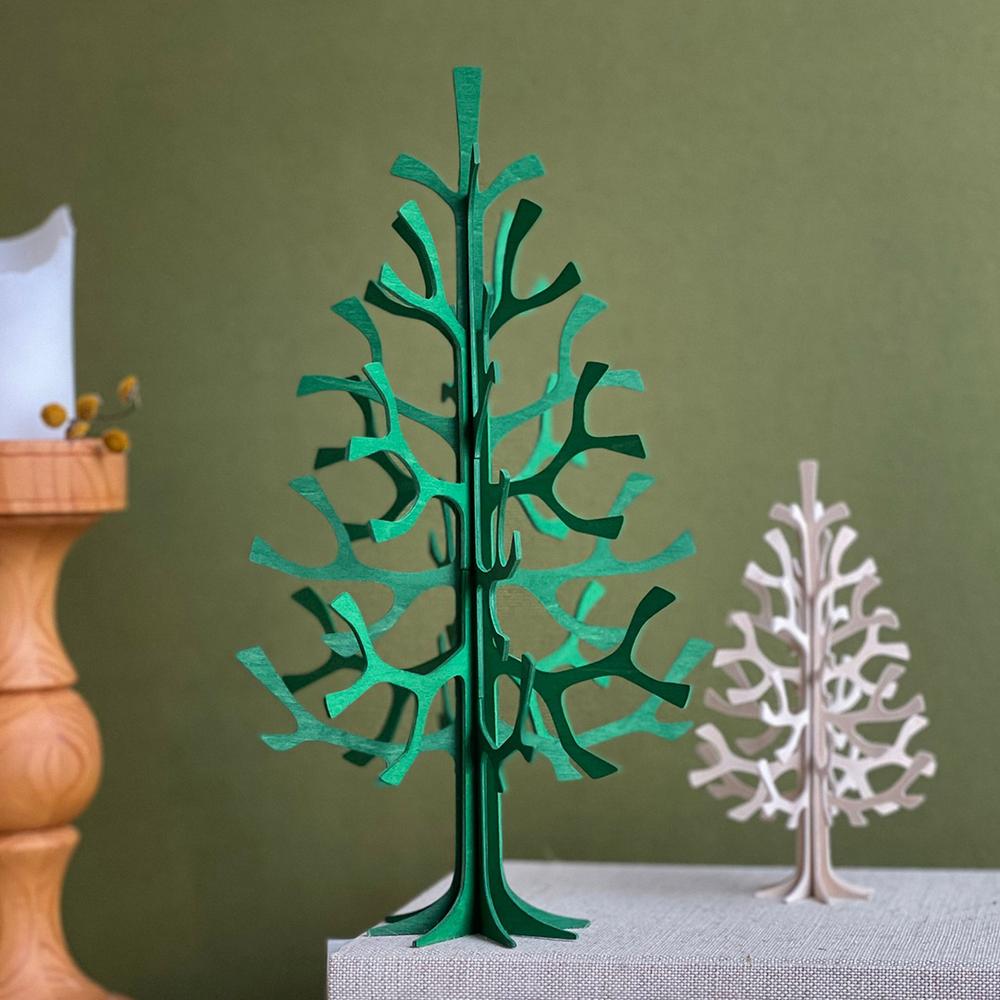 There are five color options available: natural wood, light green, dark green, bright red, and grey. Which one would be the right fit for your home? You can use Lovi Minibaubles or Minibirds to decorate the branches of the tree.
Lovi Spruce 25 cm is the right choice for a small bookshelf, narrow window ledge, or even a small workstation. In our home, this model ended up as a Christmas tree of a doll house. While it's great for that purpose as well, I'm sure it's going to find its way back to the bookshelf eventually, bringing joy to the entire family.
Lovi Spruce 30cm comes in as natural wood, and the package also includes eight red Minibaubles. Out of all the size options for our trees, this one is the most popular for gift purposes. We also receive many business gift orders for this one. The warm, wooden tone of the product ensures that it fits in with the other decorations of your home outside the holiday season as well. The 30cm size option is at its best when placed on a window ledge, bookshelf or among other Lovi Spruces.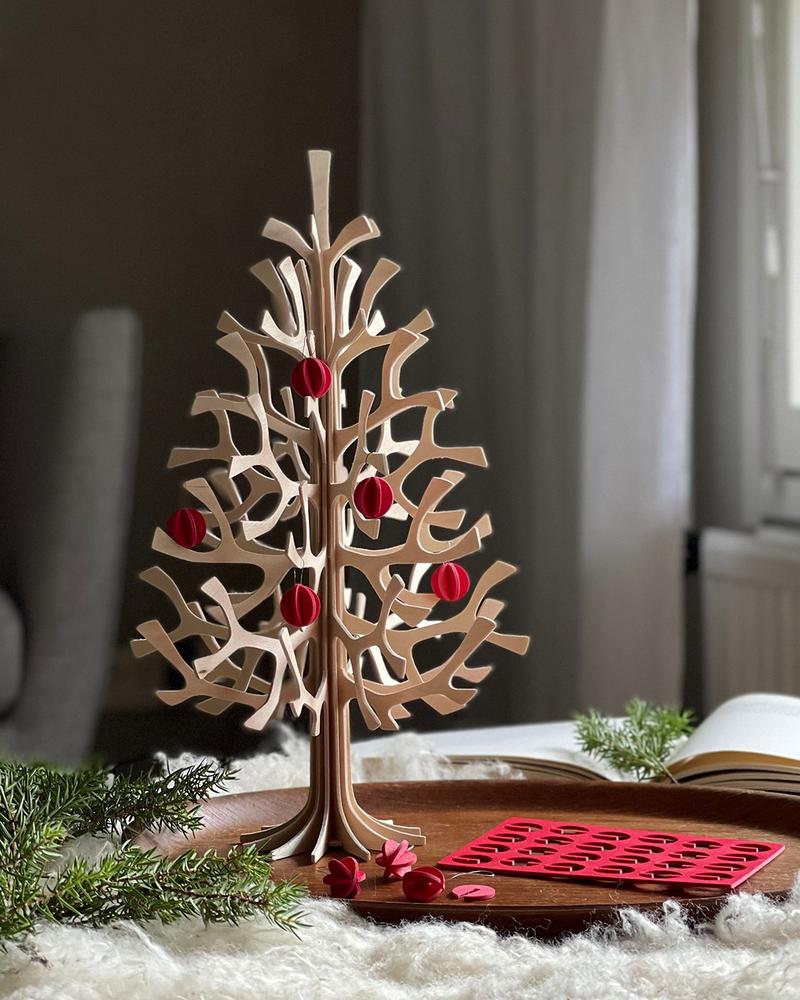 Lovi Spruce 30 cm now comes in a re-designed envelope-sized package that fits into a mailbox, which makes shipping it easier than ever.
Lovi Spruce 50cm is the largest model among our table decor-sized spruces. This size option also features five color options: natural wood, light green, dark green, bright red, and grey.
Assembling the tree is easy with the included instructions. Storing the parts after taking it apart is also effortless due to the flat-shaped form of the package.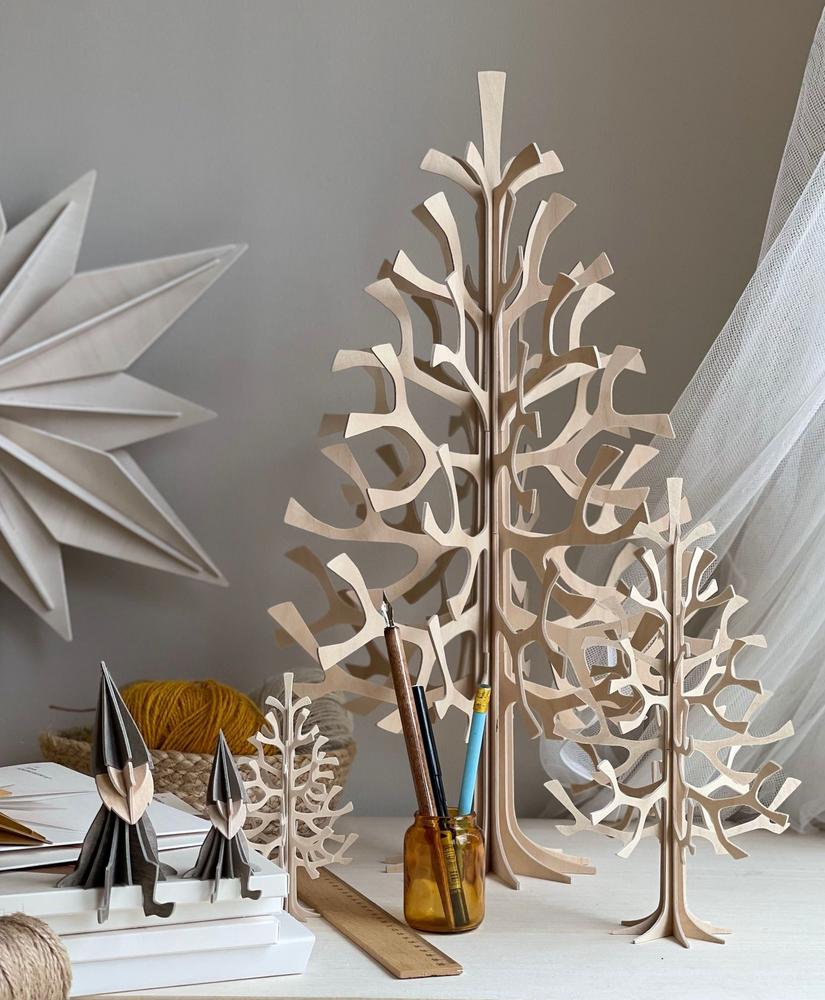 Lovi Spruce 50cm is a great addition to the top of a sideboard or a dresser. It's also a fine choice for a Christmas tree in a smaller home with little floor space to spare. Decorate it with either Lovi Baubles 3,5cm or Lovi Stars 5cm and add in some small, battery-operated Christmas lights to ensure a festive atmosphere.
LARGE LOVI SPRUCES
The size of these trees serves to emphasise their beautifully arcing branches and cone-like shape. The high-quality Finnish birch plywood used in the trees' construction also gets to shine with the benefit of more surface area.
The parts of our larger Lovi Spruces have been numbered to make assembling them easier. The included instructions show the order in which the parts should be attached.
Large-sized Lovi Spruces stand firmly on the ground due to their low centre of gravity. The 120cm and 180cm tall versions can also be assembled into a metal pot, making them even sturdier and standing slightly above ground level. Remember to add the pot while making the order for the tree to ensure their compatibility.
100CM, 120CM and 180CM MODELS
Among our larger Lovi Spruce models, the smallest one measures at 100cm, looking its best on top of a small platform or a stool. If you have a small home with little floor space to spare, this is the spruce for you. Elegant, yet the size of an actual spruce, this Lovi Spruce is a beauty whose branches are able to carry larger Christmas decorations as well. The model also goes well as a second Christmas tree in a workspace or a fireplace room.
Lovi Spruce 100cm comes in a flat package measuring at 58cm x 58cm x 4cm and with a weight of 2kg.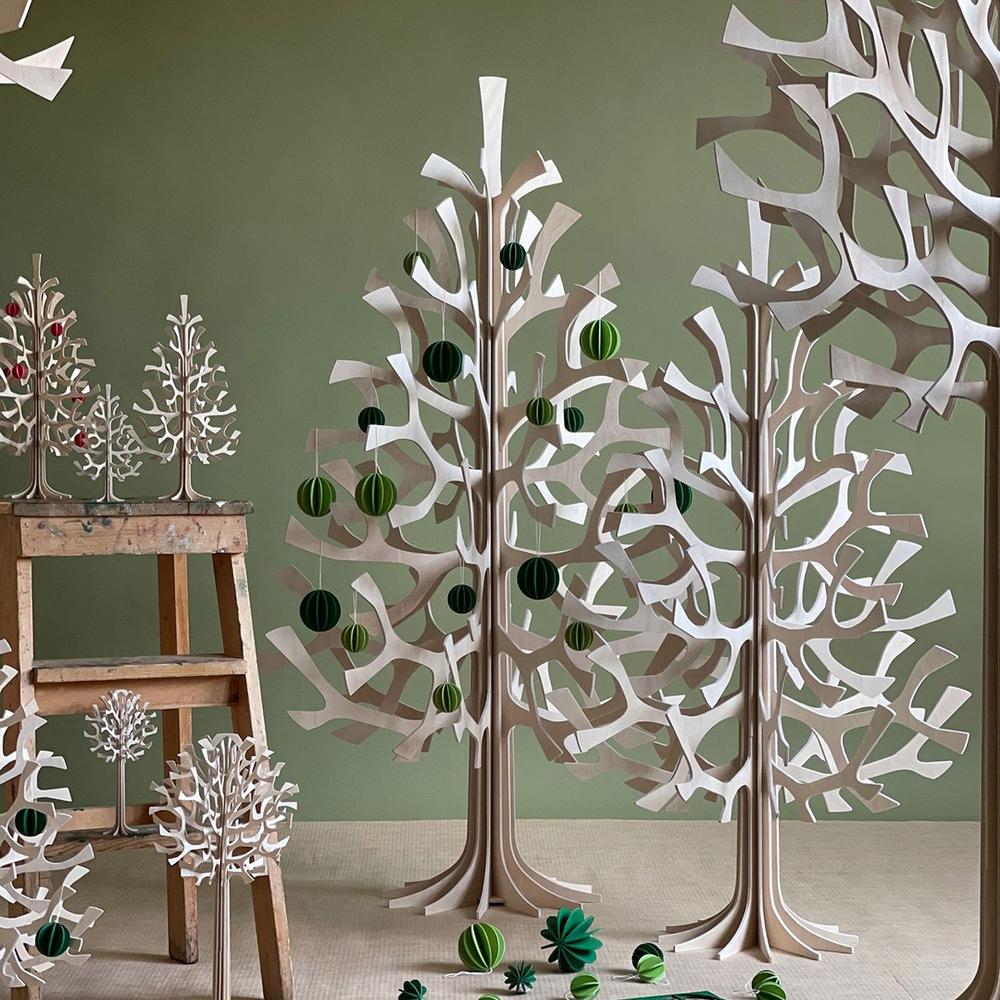 Lovi Spruce 120cm is the most popular among our larger spruce models, and it can be assembled to stand either on the floor or on a low platform. The tree can also be ordered alongside with a pot.
Among our models, Lovi Spruce 120cm is the most typical choice as a permanent Christmas tree of a household. Its beautiful, timeless design fits in all kinds of interiors and the size is just right for most living rooms. It also makes for a great decorative piece for an office environment or a Christmas shop.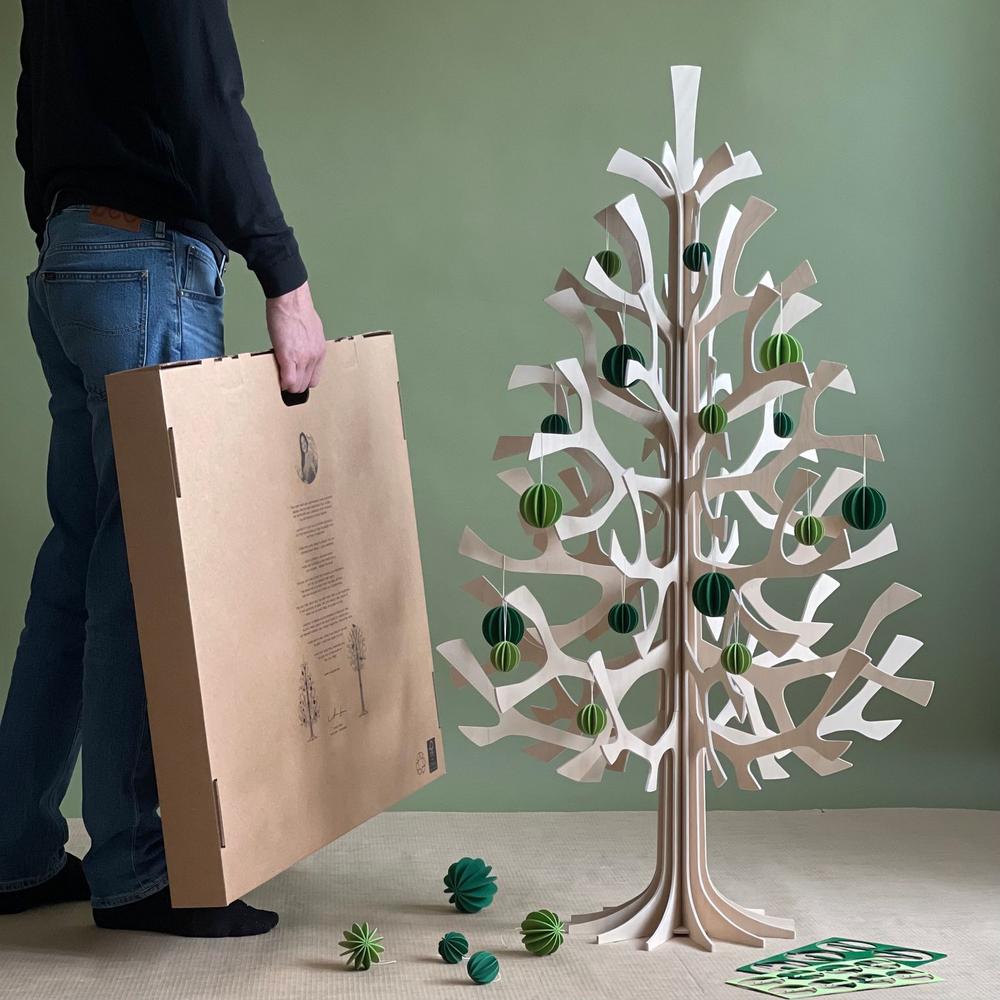 This size option also boasts five colors of choice: natural wood, light green, dark green, bright red, and grey.
After the festive season is over, the parts remain protected in the flat package they come in. For the 120cm model, the package measures at 75cm x 69cm x 8cm, with a weight of 2,1kg.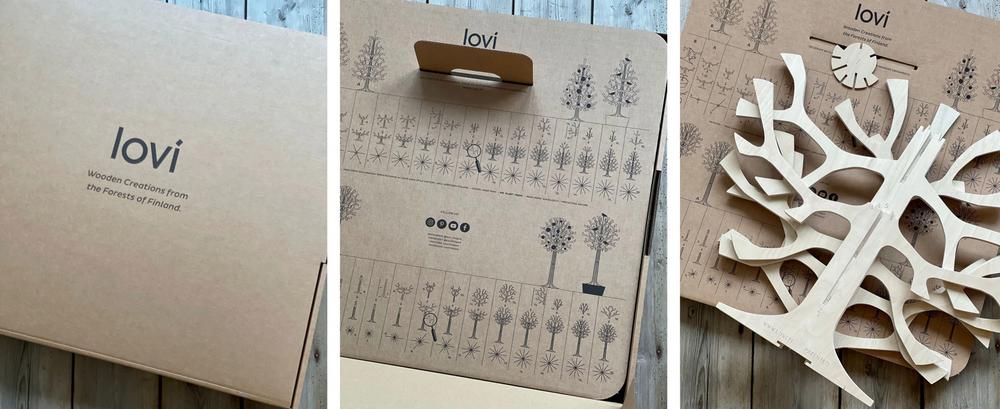 THE GRAND ONE
Lovi Spruce 180cm is the largest model in our catalogue and truly a sight to behold. You can re-assemble it over and over again for later use, outside the festive season as well.
Lovi Spruce 180cm is made to last forever. The 9mm thick Finnish birch plywood used in its construction is robust and stays in form. As befits the material of choice, the tree weighs a whopping 12kg. The weight and a low centre of gravity ensure the tree's stability.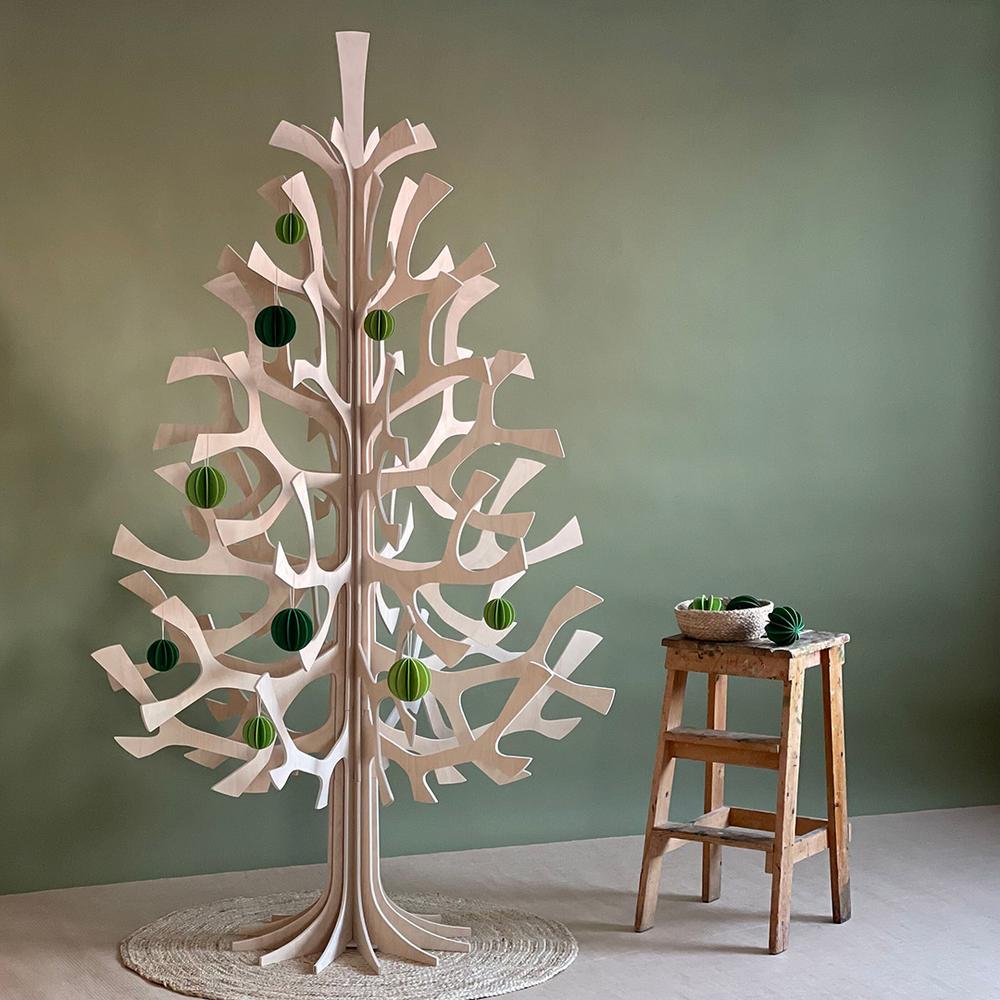 It is in open spaces where the form and appearance of the Lovi Spruce 180cm truly get to shine, making it a suitable addition to public spaces as well. When assembled on top of a metal pot, the lowermost branches of the tree rise a little bit higher, making it easier to clean the floor underneath.
The largest Lovi Spruce can also be disassembled after use and stored in the flat package it comes in. The package measures at 105cm x 71cm x 13cm.
DECORATING THE LOVI SPRUCES
Lovi offers a wide variety of beautiful decorations to add to your spruce of choice. The original Lovi Baubles tell the story of where all of this began: from our desire to manufacture wooden Christmas decorations in Finland, from Finnish materials. In addition to baubles, our catalogue includes stars, hearts and angels to hang on the branches of our spruces.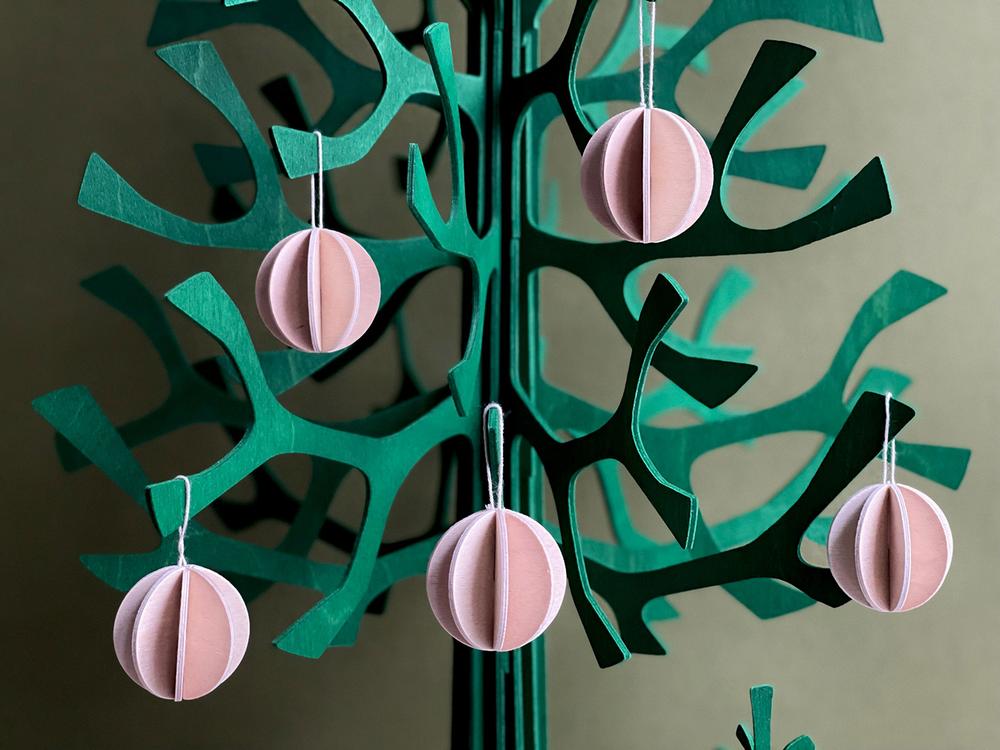 Get acquainted with the selection of decorations we make and pick your favourite. You can also try out something new and surprising! Just imagine what something like Lovi Jellyfish or Lovi Penguin might look like on the tree branch, alongside with more traditional decorations. Read more about our Christmas decorations from our post Christmas decorations combine traditions and the present day and get to know everything about our Christmas decoration selection!
We hope this guide has helped you choose the right-sized tree for your needs. If there's anything else you'd like to know, contact us at info@lovi.fi or call +358 40 745 5002. Join us on Instagram too @lovi_finland_.