Lovi Decor Star
Lovi Decor Star 15cm is the new size for autumn 2023.
The new size completes Lovi Decor Star selection. Like larger stars, Lovi Decor Star 15cm is available in cinnamon brown, translucent white and natural wood, but also in honey yellow.
The new size can not only be mount on the wall, but also hung on a branch of the Christmas tree and on window, or be used as a Christmas tree topper.
The shape of the Lovi Decor Star is traditional and filled with tried-and-true elements you've grown to know and love about Lovi products. The parts are joined together by our own patented Lovi joint. Carefully considered notches and cuts enable assembly without glue. This means you can take the product apart for storage if you wish.
You'll be able to find the right fit for your home from the four size options – 15cm, 24cm, 36cm and 48cm. There are  three colour choices in bigger stars: natural wood, translucent white, cinnamon brown. The smallest star, size 15cm is also available on honey yellow.
Lovi Decor Stars come in flat, plastic-free packaging. TheL (15cm),  L+ (24cm) and XL (36cm) size options can be sent as letters. The MAXI sized star (48cm) is sent as a small package.
Over the course of assembly, a small hole resembling a snowflake forms in the middle of the star, letting natural light pass through it in a beautiful fashion. The pattern is at its most visible when hanging the star in front of a window.
Lovi Decor Star can be either mounted on a wall or hung in front of a window with a wire. The smallest size is also perfect choice on the branch of the Christmas tree. The wire comes included in the package, as does the suspension piece for wall mounting. Choose an appropriate nail or a screw depending on the material of your wall. While the Decor Stars are light in weight, make sure to not let them drop to the ground.
Decorate the walls of your home with one or several Lovi Decor Stars, hang them in front of a window for everyone to see or send a lovely gift to a friend. You can read more about the product and its design process in Lovi's blog!
Show more
Show less
From 15,90€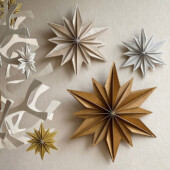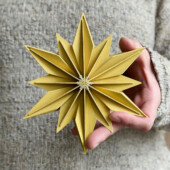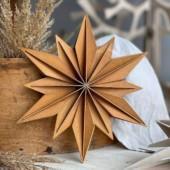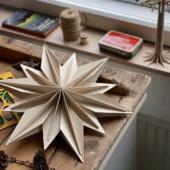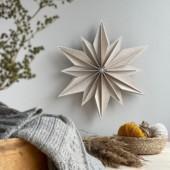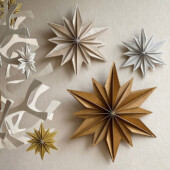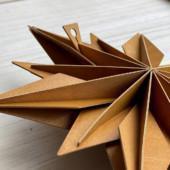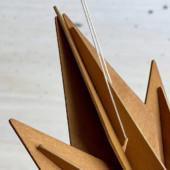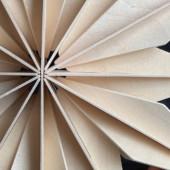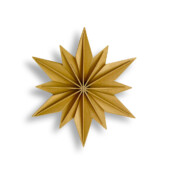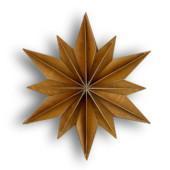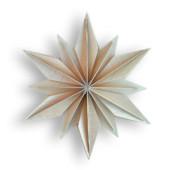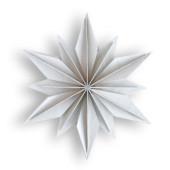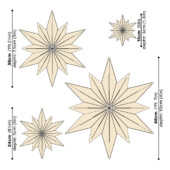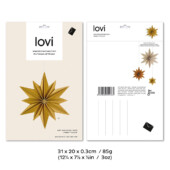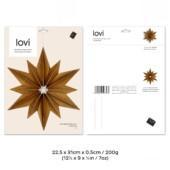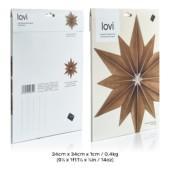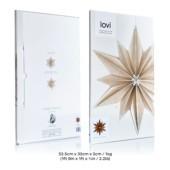 DETAILS
Package size / weight:
31 x 20 x 0.3cm / 85g
22.5 x 31 x 0.3cm / 165g
24.5 x 34 x 0.8cm / 390g
31.5 x 52.5 x 2cm / 1250g
Colors: cinnamon, natural wood, white, honey yellow (15cm)
Material: Eco-friendly Finnish birch plywood
Hand painted with water based, non-toxic toy paint. Natural wood material is seen through the thin paint layer.
Made in Finland. Plastic free. Easy to send postcard-like package. Illustrated instructions inside the package. Patented. Design: Anne Paso
Shipping costs
Finland: Free shipping for all orders
European Union & Rest of Europe: From 9.90€
United Kingdom: From 13.90€
North America: From 19.90€
Rest of The World:  From 24.90€
See free shipping tresholds & detailed information here.
DID YOU KNOW
Lovi Decor Star was published in the same autum  Lovi turned 16 years and is 52st released Lovi product.