Lovi Eggs 4.5cm, 6pcs
Lovi Eggs are back in our catalogue, now coming in as multipacks and in two size options (4,5cm and 7cm).
The lovely wooden easter eggs are available as a colors mix (pink x 2, linen blue x 2, honey yellow x 2), a golden mix (wood x 2, honey yellow x 2, cinnamon brown x 2) and an assortment in which all the six eggs are natural wood.
Hang the eggs on decor branches, mix in a few among Lovi Rabbits or Roosters and put them in rye-grass or make them into an arrangement in a basket. Suspension strings are included with the package.
There's no better way to spend your Easter holidays than painting a set of natural wood eggs! Use your favorite colors and techniques and gather the entire family to decorate them. Lovi Watercolors are rich in pigment and perfect for painting the eggs. The package comes with eight color buttons, a paintbrush as well as easy color mixing guide.
The natural wood Lovi Eggs and Lovi Watercolors also make for a fun, easy-to-ship Easter gift. Send them in a package to your friends or envelop them in beautiful gift-wrapping paper for an Easter visitation.
Show more
Show less
18,90€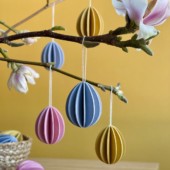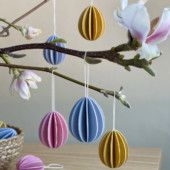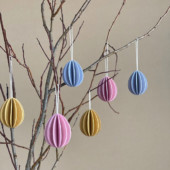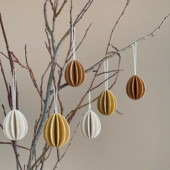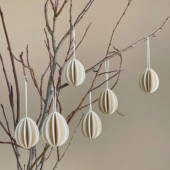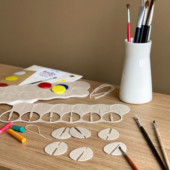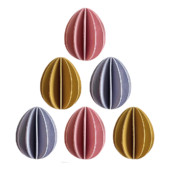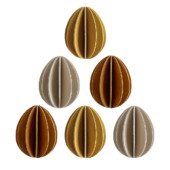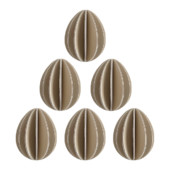 DETAILS
Package size / weight:
32 x 10.5 x 0.5cm / 65g (1ft⅝in x 4⅛in x ⅛in / 2.3oz)
Colors: color mix, golden mix, natural wood
Material: Eco-friendly Finnish birch plywood
Hand painted with water based, non-toxic toy paint. Natural wood material is seen through the thin paint layer.
Made in Finland. Plastic free. Easy to send flat package. Illustrated instructions inside the package. Patented. Design: Anne Paso
Shipping costs
Finland: Free shipping for all orders
European Union & Rest of Europe: From 9.90€
United Kingdom: From 13.90€
North America: From 19.90€
Rest of The World:  From 24.90€
See free shipping tresholds & detailed information here.
DID YOU KNOW
Egg is a symbol of fertility and birth. Even the national epic of Finland, Kalevala, tells the tale of the world being born of pochard's egg. Easter egg is a representation of new life, spring, and growth. But who lays easter eggs? Is it the long-eared easter bunny or a proud easter rooster? What do you think?