Lovi Eggs 7cm, 3pcs
The wooden Lovi Eggs are back in our catalogue, and they can now be ordered in multipacks and in two size options (4,5cm and 7cm).
Hang the eggs as part of your Easter decoration, put them in rye-grass or turn them into an arrangement alongside with Lovi Rabbits and Roosters.
The 7cm Lovi Eggs package comes with three easter eggs requiring assembly. There are three color options: color mix (pink x 1, linen blue x 1 and honey yellow x 1), golden mix (honey yellow x 1, cinnamon brown x 1 and wood x 1) ans natural wood (natural wood x 3).
The natural wood eggs make for a beautiful, natural-looking Easter decoration. You can also decorate the eggs yourself. Painting the eggs is a wonderful way to spend the Easter holidays!
Add a set of Lovi Watercolors to your order. Rich in pigment, these colour buttons are perfect for painting wooden surfaces. The package comes with eight color buttons, a paintbrush as well as easy color mixing guide.
Lovi Eggs also make for a wonderful Easter present! Add a set of Lovi Watercolors to the package and delight your friends with a creative gift.
Show more
Show less
21,90€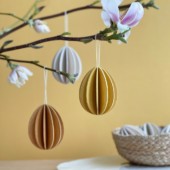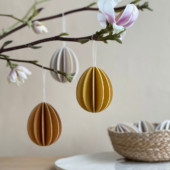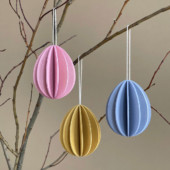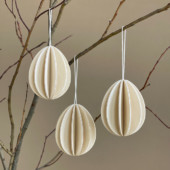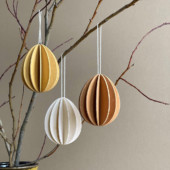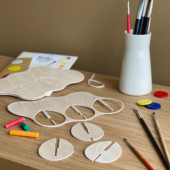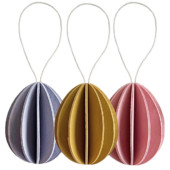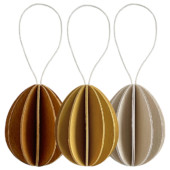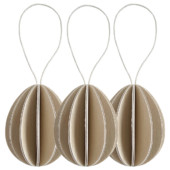 DETAILS
Package size / weight:
36 x 15 x 0.5cm / 135g (1ft 1¾ in x 6in x ¼in / 4.8oz)
Colors: color mix, golden mix, natural wood
Material: Eco-friendly Finnish birch plywood
Hand painted with water based, non-toxic toy paint. Natural wood material is seen through the thin paint layer.
Made in Finland. Plastic free. Easy to send flat package. Illustrated instructions inside the package. Patented. Design: Anne Paso
Shipping costs
Finland: Free shipping for all orders
European Union & Rest of Europe: From 9.90€
United Kingdom: From 13.90€
North America: From 19.90€
Rest of The World:  From 24.90€
See free shipping tresholds & detailed information here.
DID YOU KNOW
Painting Easter eggs is an ancient tradition. A countless number of beliefs have been linked with egg decorating, and the patterns painted on eggs are interpreted to hold a variety of meanings. Eggs have been painted in homes to banish evil spirits and, on the other hand, they have been given away as presents to attract good luck in households. Traditionally, painting Easter eggs has been a communal activity during the week following Palm Sunday. People and families come together to enjoy handcrafts and good company as Easter draws near.